Explore serene and fantastic weekend getaways from Istanbul. Sometimes, even a brief two-day escape can work wonders! Whether you're with loved ones or seeking solitude, these nearby destinations allow you to immerse yourself in nature. To make it easy, we've gathered the best weekend getaway spots just a short distance from the city.
Table of Contents
1. İğneada
Floodplain forests created by water in wooded areas are a rare sight, found in only four places worldwide, and İğneada in Kırklareli is one of them. Just a three-hour drive from Istanbul, İğneada is famous for its floodplain forests and the unique natural beauty found in these areas, along with various accommodation options. This hidden paradise is an ideal spot to begin your day, surrounded by tranquility, lush greenery, and clean air.
2. Polonezköy
Polonezköy, nestled in Istanbul's Beykoz district, is a captivating village with a rich history and natural beauty that offers a tranquil escape from the city's hustle and bustle. For a perfect weekend getaway, you can rent a house or choose from the available hotels, allowing you to immerse yourself in nature.
Your journey can commence at Polonezköy Culture House, where you can explore the Polish culture that the village is named after. Don't miss the opportunity to admire the tree sculptures displayed in front of the Culture House. When you need a break, there are picnic areas where you can relax during the day.
Interestingly, the Virgin Mary Church, reconstructed in 1914, served as the Turkish Army's headquarters during World War I. Located at the entrance of Polonezköy, this church occasionally hosts music concerts and festivals.
If you're an outdoor enthusiast, Polonezköy offers a range of nature sports activities, including trekking, cycling tours, and nature walks. It's a delightful destination for both history enthusiasts and nature lovers alike.
3. Tekirdag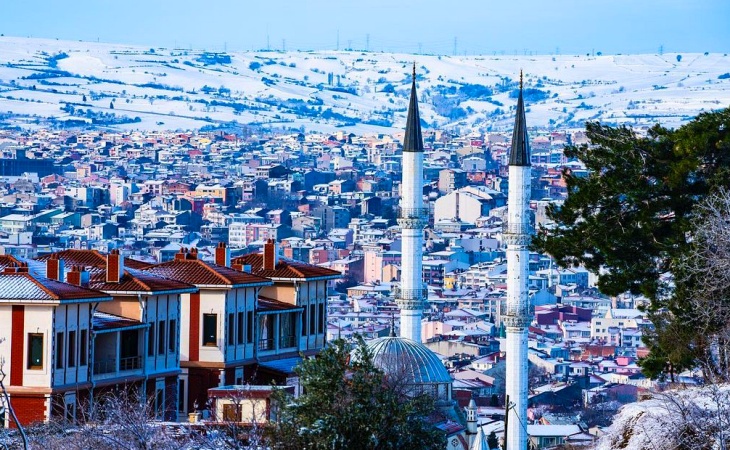 Tekirdağ, a prominent tourist destination in the Marmara Region, known for its historical and natural wonders, is just a two-hour car ride away. During the summer months, you can enjoy some of the best beaches for swimming, while adrenaline junkies can explore the slopes of Ganos Mountain for paragliding adventures!
A must-visit spot in Tekirdağ is the Archaeology and Ethnography Museum, open year-round. Here, you can delve into the region's rich history by examining artifacts dating back many years and gain valuable insights.
For those interested in literature, a visit to the house where Namık Kemal, one of Turkey's most esteemed writers and poets, once lived is a journey through history. The house has been transformed into a museum.
Additionally, Tekirdağ offers the opportunity to savor local wines and explore vineyard houses. If you're looking for a recommendation, consider visiting the Barbaros Vineyard House. It's a delightful destination for wine enthusiasts and history buffs alike.
4. Sapanca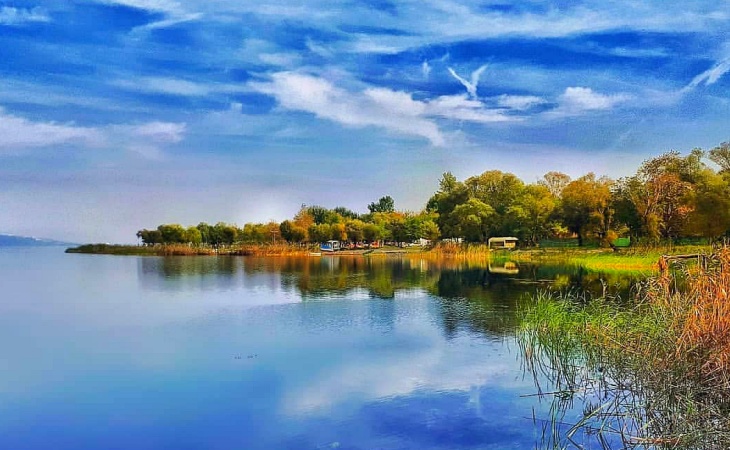 Escape the city and enjoy a relaxing weekend in Sapanca, a beloved destination for people from Istanbul. Sapanca offers fresh air, rolling hills, and a beautiful lake. The area around Sapanca Lake has various paths for activities like cycling, running, and leisurely walks. You can explore the stunning natural beauty of Kırkpınar, the first settlement established by Circassians in 1864, with its waterfalls and streams.
If you're a fan of winter sports, Kartepe is the place to be for snow and outdoor activities with a view of Sapanca Lake. Don't miss a visit to Maşukiye, a charming spot with lush greenery and Ottoman-era buildings. Here, you can enjoy ATV tours and horseback riding and capture some fantastic photos.
For a memorable dining experience in Sapanca, be sure to reserve a table at Chef Doğan Anapa's restaurant, Anapa. Your taste buds are in for a treat!
5. Büyükada
Getting to Büyükada by ferry is not only easy but also a delightful experience. The ferry ride to Büyükada departs from various districts like Kadıköy, Maltepe, Bostancı, Beşiktaş, Kabataş, and Avcılar. The duration of the journey varies from 1 to 1.5 hours, depending on your departure point. As you arrive, you'll be welcomed by the charming island atmosphere and quaint local ice cream shops that have been serving visitors for years.
In our opinion, renting a bicycle is the most sensible way to explore the island. With a bike, you can easily navigate the island's various routes and enjoy your journey to the fullest.
While strolling around Büyükada, if you come across a three-story house adorned with pink details, you've spotted the residence of Reşat Nuri Güntekin, one of the renowned Turkish writers. You can't enter the house, but you can certainly capture a memorable photo in front of it. Büyükada also boasts spacious picnic areas where you can relish the offerings of restaurants and cafes.
Your visit to Büyükada wouldn't be complete without seeing Aya Yorgi Church, one of the island's most prominent landmarks. To reach Aya Yorgi, you'll need to embark on a steep 25-minute hike, as no vehicles, including bicycles, can access it.
6. Burgazada
Burgazada, the third-largest island among the Prince Islands, is easily accessible by ferry from certain districts of Istanbul. You can enjoy a weekend getaway on Burgazada with a pleasant one-hour ferry ride. For museum enthusiasts, a visit to the house where the renowned short story writer Sait Faik Abasıyanık once lived is a must. This house, donated by Sait Faik's mother after his passing, has been transformed into a museum, offering fascinating insights into the author's life. While exploring the museum, you'll even find a special area where you can write letters to the famous writer.
Another notable visit to the island is the Greek Orthodox Hagia Yani Church, which is usually open on Sundays, although its schedule may vary. If you're fortunate to have good weather, Madam Martha Bay is an excellent spot to relax by the seaside or take a dip in the sea. To reach Madam Martha Bay, head right for approximately 1.5 km after leaving the pier. If you prefer a quicker and more enjoyable way to explore the island, we recommend renting a bicycle.
7. Kınalıada
Kınalıada, the smallest and closest of the four major islands to Istanbul, is renowned for its vibrant redbud trees and its charming white wooden houses. As you wander through its streets, you'll encounter traces of history at every turn, feeling like you're strolling through the set of a TV series. Despite its small size, you can explore the delightful Kınalıada from one end to the other in just 30 minutes. If you're seeking a tranquil and peaceful island getaway, Kınalıada should be your top choice.
While on the island, you can visit the Panayia Church located in the eastern part, believed to have been frequented by Emperor Leo V according to Byzantine historians. As you walk along the beach and soak in the beautiful weather, make sure to stop by the Surp Krikor Lusovaric Church, which stands as the only Armenian church along the coastal road on the Prince Islands. For breathtaking views, consider ascending Çınar Hill, Teşrifiye Hill, or Monastery Hill, capturing the moment with memorable photographs to cherish.
8. Bolu – Abant
Wouldn't it be nice to escape the hustle and bustle of Istanbul, hop in your car, drive for a maximum of three hours, and enjoy a serene weekend in Abant? Whether you prefer to unwind by the fireplace in a cozy rental house or hotel, or you're eager to explore Abant, be sure to set aside at least two days for your visit. Abant Nature Park, a picturesque lake nestled in the Abant Mountains, offers numerous activities to enjoy. If you're into fishing, you can try your luck with a fishing rod on designated days throughout the year for a fee. Additionally, adventure seekers interested in camping, hiking, and paragliding should make note of the opportunities available at Çepni Plateau.
Yedigöller National Park, Seben Kaya Evleri, Örmeci Plateau, Sinekli Plateau, and Abant Natural Life Museum are some other points of interest to consider adding to your itinerary.
9. Şile
Şile, famed for its natural beauty, fresh air, and lush forests, is a mere 45-minute drive from Istanbul. You'll find plenty of hotels and hostels in Şile for a quick getaway. If you're seeking adventure, there are numerous activities to indulge in, including trekking, hiking, paintball, and ATV rides in various parts of Şile.
While in Şile, make sure to explore its historical sites. Şile Castle, originally constructed as a coastal watchtower to guard against potential threats, stands as one of the district's iconic landmarks. Additionally, you can visit Şile Lighthouse, the widest lighthouse in Turkey, which also serves as a museum. As the weather warms up, consider a tranquil seaside retreat in Akçakese Village, a short distance from Şile. And for those interested in automobile and motorsports, be sure to take note of the Ulupelit Rally Track, an excellent venue for training and competitions!
10. Agva
Ağva, a charming town in Istanbul's Şile district, is nestled between the Yeşilçay and Göksu streams and ranks high on the list for a weekend escape. To reach Ağva, simply follow the Northern Marmara Highway by car, which takes no more than two hours from various parts of Istanbul. The town offers a plethora of hotels and hostels, and the range of activities available is boundless.
One of the first things to do is to embark on a river tour along the Göksu River using a pedal boat. While it may be a bit tiring, the breathtaking views you'll encounter make it all worthwhile. If you prefer a less strenuous option, boat tours are also available to explore the rivers and bays. For history enthusiasts, a visit to Şile Castle, also known as Ocaklı Castle, built by the Genoese, and Gelin Kaya, an iconic rock formation known as the Crying Rock due to its appearance, should be on your list of must-visit places during your weekend getaway.
11. Eskisehir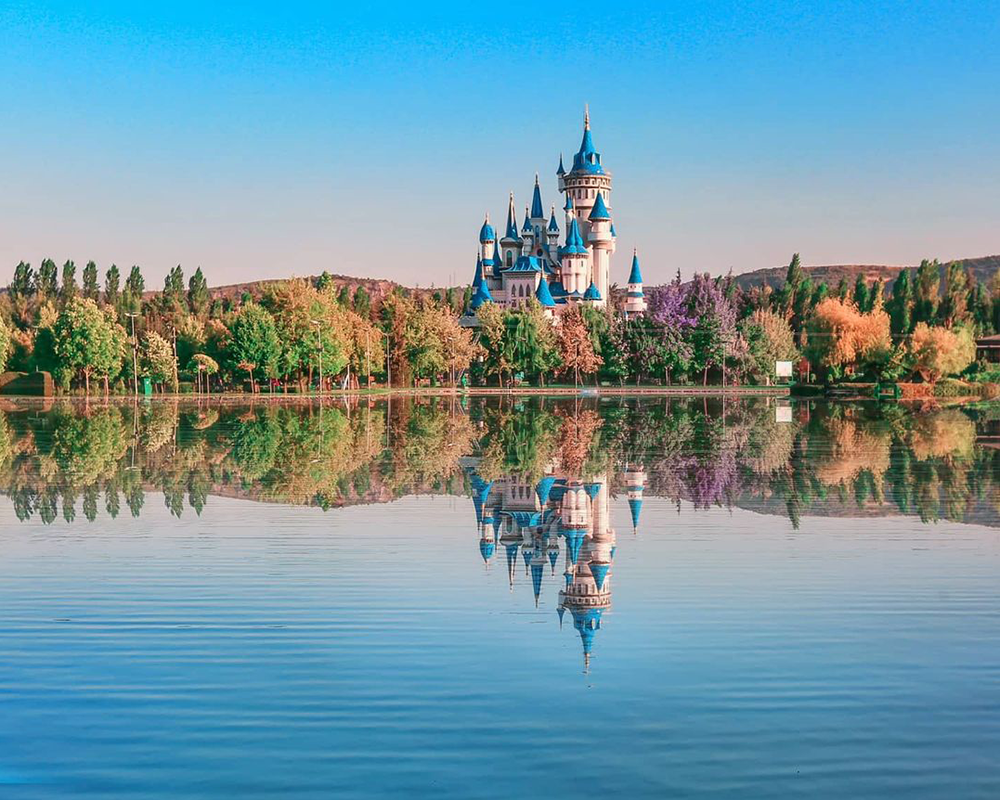 Eskişehir, located a three-hour train ride away from Istanbul, is a fantastic choice for a weekend getaway. The city is a joy to explore, thanks to the scenic Porsuk Stream that flows through it. Eskişehir offers an array of delectable restaurants and captivating sights, making it a delightful escape for all seasons. To fully experience the city, it's advisable to set aside at least two days, and there are plenty of exciting accommodation options to choose from.
---