Israeli cuisine is an explosion of flavors, smells and colors, offering any traveler a unique experience.
In Israel, you'll find streets and markets brimming with the best of Israeli cuisine. Known for its incredible street food scene, local vendors, and hidden eateries, you can indulge in national favorites like hummus, falafel, shawarma, and shakshuka. Food plays a central role in Israeli identity, bringing together people from diverse backgrounds. Whether you have a specific taste or are open to trying anything, you're in for a delightful culinary experience. To help you choose, read on to discover the top Israeli dishes and best places to savour them!
Here you can read about 10 Best Places To Eat In Tel Aviv :
Table of Contents

AN EXPLOSION OF FLAVORS IN A UNIQUE CULINARY MELTING POT
To understand this incredible culinary diversity, just think of the wealth of the Israeli diaspora. You have to imagine Europe, Africa and Asia colliding and mixing together on Israeli plates in order to produce an extraordinary cuisine that cannot be found anywhere else . There are influences from multiple regions, ranging from dishes with European accents (from Italy to Russia, via flavors from Eastern Europe or even France) to tastes typically African, particularly through Ethiopian cuisine, and even influences from the Middle East or the Maghreb. So, the incredible diversity of population in this small country undoubtedly makes it unique because Israeli cuisine is indeed a culinary alchemy, which ends up forming a unique whole!
 It's as if we had taken all the cuisines of the world, locked them up in a huge container, shaken everything up and then extracted the best from it to form a new gastronomy specific to the country.
TEL AVIV: A PARADISE FOR THE TASTE BUDS
Tel Aviv, a true epicurean and embodying the sweetness of life par excellence, is full of good addresses, whether for a drink or a meal. Just take a walk in the central districts at the end of the day to see it: all the terraces are full of life!
You will find establishments almost everywhere in the city but, that the great classics are rue Dizengoff and boulevard Rothschild , which is chic and trendy. Look for places in the area of the HaCarmel souk , lively and authentic, and especially Neve Tzedek , with its "bobo chic / art galleries / bars and intimate restaurants" atmosphere.
Neve Tzedek
HaMitbahon
A stay in Tel Aviv necessarily rhymes with evenings spent at HaMitbahon : both simple and cosy, modern without overdoing it. The terrace, nicely sheltered under wooded palisades and decorated with all sorts of plants, contains less than ten tables and that's often where we sit.
The service is smiling, warm and relaxed. You can enjoy a couscous, vegetarian or not, a goulash (excellent dish, typically Hungarian, halfway between a soup and a beef stew) , a shakshuka (we could liken it to a piperade; peppers, tomatoes and spices simmered then baked, often with an egg on top, accompanied or not by feta or merguez, for example),lasagna or meatballs .
Amalia
About fifty meters away from HaMitbahon , you can also go to Amalia , whether to get a meal, again prepared with care and generously served, or taste one of their excellent desserts . Relaxed atmosphere, low tables, wooden benches and colorful cushions– just enjoy the moment.  The menu, focuses around 5 or 6 main courses , among which we find for example meatballs in tomato sauce , a schnitzel(or "Viennese cutlet", that is to say a thin cutlet of white meat coated with breadcrumbs and fried, typical of Ashkenazi cuisine), a vegetarian couscous or a chicken thigh with mustard .
Bicicletta
Another address not to be missed is a few streets away, at Bicicletta . Expect long queue on certain evenings -it is a renowned address, as much for its setting, its atmosphere as its cuisine . Here, you dine on a huge patio dotted with plants, lanterns, and punctuated by loud voices and background music . A little more trendy while remaining simple, that's also how we could define the menu. There are dishes borrowed from different gastronomy and always revisited with small touches of inventiveness that make all the difference . Above all, remember to save room for the desserts, they are excellent !
On the menu, there are both meat and fish dishes, or even vegetarian dishes, to satisfy all palates. To give just a few examples, we could tell you about a beef tartare with coriander, almonds and slightly lemony Persian yoghurt, or even a ceviche with apricot, red onion, mint and coriander. You must taste a knafeh , a Middle Eastern dessert made with angel hair, cheese and pistachios. Homemade, served in a small individual skillet, it is divine.
Bar Ochel 

Moreover, in the heart of the HaCarmel souk , go for lunch to Bar Ochel , which serves dishes based on grilled meat (but also some vegetarian recipes such as shakshouka ). In an atmosphere specific to the markets, with a little touch of modernity , you will find something to delight your taste buds and you will have a great time, immersed in the excitement of the souk! You can place a take-out order but a few high tables have been set up on the side so you can eat on the spot.
HaKovshim Bistro 
At the entrance to the district, there is also one more place worth noticing: HaKovshim Bistro . On the menu, there are several kinds of dishes:a traditional cuisine, simple, very well prepared and at very reasonable prices.. Try some vegetarian dishes, such as excellent roasted cauliflower.
Vicky Cristina 
In another style, a must to enjoy the inimitable atmosphere of Tel Aviv is obviously to go for a walk in the old HaTachana station . A few shops, galleries but above all terraces, including that of Vicky Cristina . Here,you will not find traditional cuisine , but you will enjoy the decor a good glass of wine accompanied by some tapas . Guaranteed romantic evening, cozy atmosphere the mouth , everything is there to spend an unforgettable moment.
---
Jaffa
If we push a little further, we arrive in Jaffa and there, it is a paradise for gourmets  !
Let's start with the port , with its modernly fitted out docks, where it is good to have a drink or have a snack , at any time of the day or evening, in an atmosphere that is sometimes cozy, sometimes festive but always lively. By the way, before sitting down in one of the bars, you can taste a fritto misto (fried small fish and other seafood) fresh and tasty, served to take away, which you can buy at the end of the port, in a place that look inconspicuous but where the people are queuing.
You must try also great Cafe Puaa.
Cafe Puaa
Café Puaa, is a renowned café that has captivated the hearts of locals and tourists alike. With its inviting atmosphere and delectable menu, this establishment has become a cherished destination for culinary enthusiasts.
At Café Puaa, you can relish in a delightful array of wholesome Israeli classics and refreshing salads, meticulously crafted to perfection.
---
 Balinjera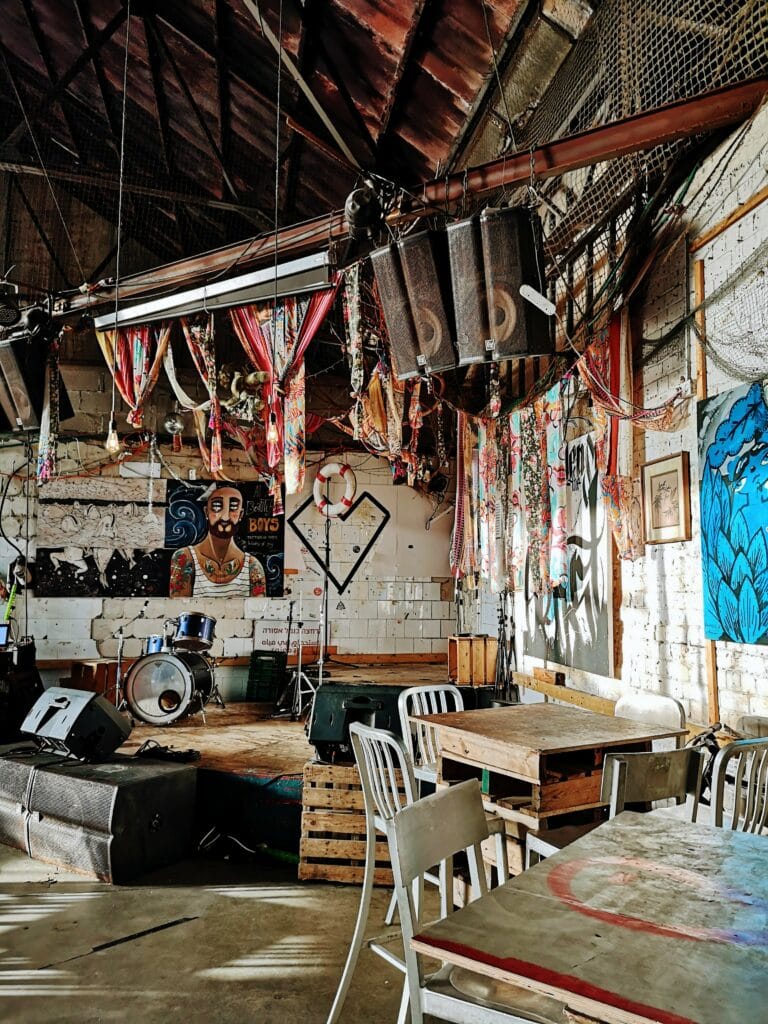 The history of the Jewish people means that there is also an Ethiopian community in Israel . So, for those who have never tasted this original cuisine, this is the opportunity and this is precisely what we did by going to spend an evening at Balinjera . The restaurant takes its name from injera , the staple of Ethiopian cuisine, that large, thin, spongy, soft pancake that forms the base of all dishes . Indeed, most of them are made up of meat or vegetable preparation, often stewed / simmered and placed on the injera , which serves both as cover, as an accompaniment and which allows you to sauce your dishes. Its vinegary taste is quite surprising, both acid and bitter. 
Banana Beach 
Finally, how can we talk about Tel Aviv without mentioning Banana Beach ? 
Indulge in a delightful fusion of international flavors here, where culinary traditions from around the world harmoniously come together. Many visitors rave about the perfectly cooked chicken nuggets and flavorful lamb. Be sure to sample the delectable croissants and exquisitely prepared che, a true treat for your taste buds.
Michelangelo
You would be delighted to experience the vibrant street food scene at Michelangelo Kitchen, located in the heart of Jaffa. This culinary gem is renowned for its exceptional blend of global flavors combined with classic Israeli tastes, creating a truly unique and exciting dining experience.
Indulge in the mouthwatering delights of the menu, where traditional street food favorites are given a creative twist. Savor the delightful combination of falafel wrapped in shawarma, and treat yourself to their delectable house-made donuts.