A country full of contrasts, where history go hand in hand with modern culture: that is Bahrain . A desert state, rich with an impressive past, topped off with an oriental atmosphere and colorful trendy neighborhoods, there is no other country like it. This is precisely why you should plan a vacation in Bahrain and put the country on your bucket list.
There is a lot to discover here that is different from Western culture. Above all, you can expect an incredible variety: from colorful markets, historic mosques and exciting museums, to ultra-modern shopping malls. Due to the size of Bahrain, which is comparable to Hamburg, you can even visit all the sights to see in Bahrain without the need for a long drive.
Here you can discover Best 10 Places To See in Bahrain:
Table of Contents
1. Al Fateh Grand Mosque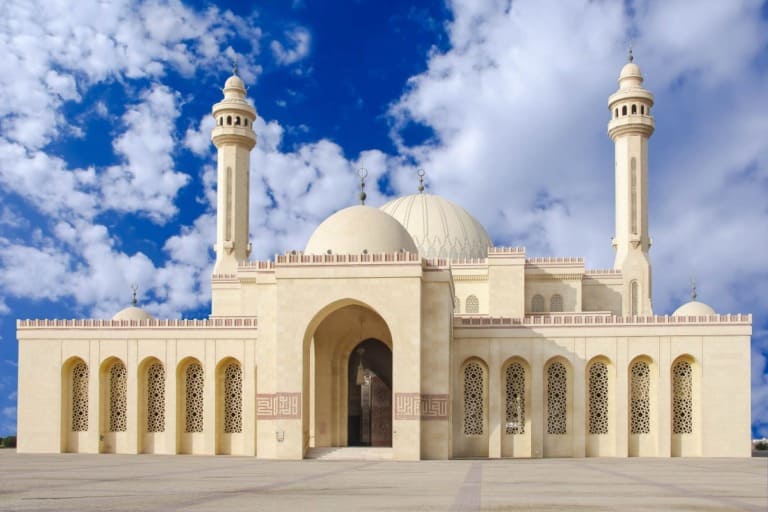 Al-Faith Mosque is also known as Al Fateh Grand Mosque and is located in the northeast of Bahrain, in the capital Manama. More than 7,000 faithful have a place in the huge and imposing building, which makes it the largest mosque in the entire country. Built in 1987, it bears the name of Bahrain's founder, Ahmed Al Fateh, and is also home to the Jewish National Library.
Particularly fascinating: building materials from all over the world were integrated into the construction of the mosque, making it a true work of art. From seamlessly gleaming Italian marble to stunning Indian doors to high-quality Irish rugs, impressions from around the world are found in one building. Even the gigantic chandelier that forms the center of the Great Prayer Room has lamps from France. If you want to get a more detailed picture of the charming mosque and its religion, you can even request a guided tour, for which robes and veils are also provided, along with a free reading.
Right next to the Al Fateh Grand Mosque is the Ahmed Al Fateh Islamic Center. The large square invites you to stroll and relax, here you have a wonderful view of the beautiful Al Fateh Grand Mosque, also you can enjoy the sun while taking a walk. Around the square you will also find numerous restaurants where you can enjoy the bustle of Bahrain. The environment is a truly fascinating architectural spectacle and carries great tranquility. Perfect to start an eventful day of sightseeing.
Tip: If you need a contrast to the Islamic Center, you can take a quick detour to the 338 block. In this trendy neighborhood, not far from the Mosque's Islamic Center, you'll find countless trendy bars and good restaurants, as well as exhibitions and art Galeries. A direct insight into the contrast between Bahrain's tradition and modernity.
Information about the Al Fateh Grand Mosque
Location: Awal Avenue corner with Al Fatih Highway, Bahrain.
Opening hours: Sunday to Thursday from 9 a.m. to 4 p.m.
Free entrance
Important: For religious reasons, you must cover your shoulders and knees. Women can borrow an abaia at the entrance.
2. Tree of life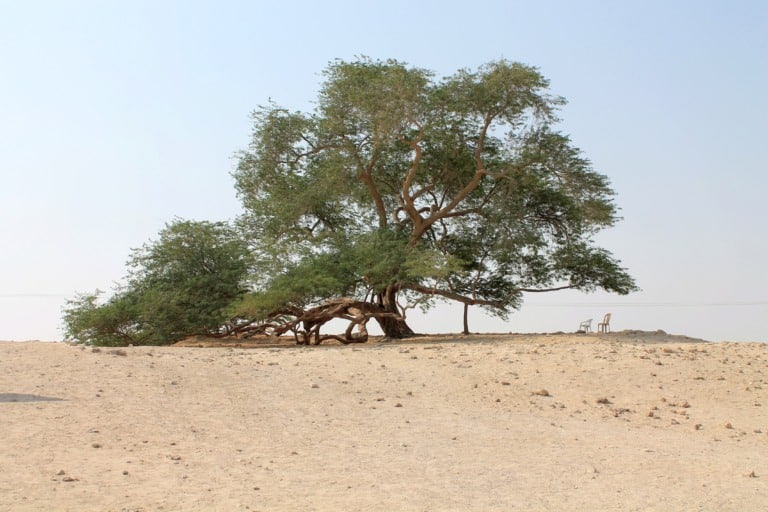 Let us now turn to a sight of Bahrain not created by a man: the Tree of Life. The gnarled mesquite, which has been flourishing in the desert for an estimated 400 years, is a true natural wonder.
Shacharat al-Haya, as the Tree of Life is called in Arabic, seems to get by without any water. Thanks to this phenomenon, the tree is the subject of many legends. During your visit, you can explore the myths surrounding the Tree of Life and then learn about its history at the visitor center.
3. Bahrain International Circuit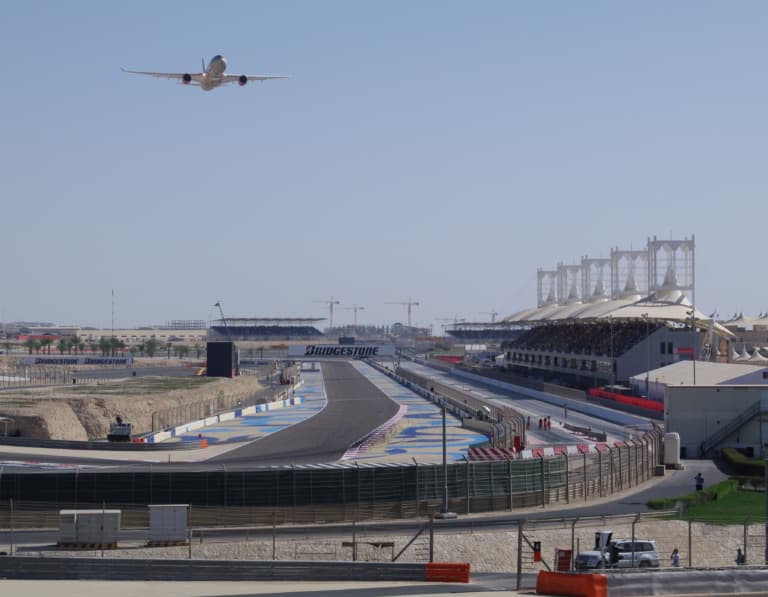 A must-see on your trip to Bahrain is the Bahrain International Circuit, one of the most famous circuits in motorsport. It was here that Michael Schumacher won the first Formula 1 race in Bahrain in 2004.
If you get the chance to watch a Formula 1 race live on the 5.4 kilometer long track in Bahrain, be sure to take advantage of it!
Tip: If you can't make it to one of the famous Formula 1 races, I recommend sticking to one practice session. It is an incredible sight too watch fast cars whiz around the corner.Or do you want to step on the accelerator yourself? At a go-kart track next to the Bahrain International Circuit, you can even become a racer yourself every day between 7:00 p.m. and 1:00 a.m.
Information about Bahrain International Circuit
Location: Gate 255, Bahrain Gulf Avenue Umm Jidar 1062 Sakhir, Bahrain
Open to General Public every day from 7:00 pm to 1:00 am
Free entrance
Events: In addition to Formula 1, drag racing, drifting or drag racing.
4. Qal'at al Bahrain
The Bahrain Fort, called Qal'at al Bahrain, is located at the northern tip of the island, on a hill of ruins. A history that goes back to 2,300 years before Christ is hidden in this historic place. Archaeological excavations began more than 50 years ago, revealing the fort's impressive history with seven different ancient civilizations. New and exciting finds are continually being discovered to this day.
Qal'at al Bahrain Fort is made up of several layers, covering more than 16,000 square meters and representing a wide variety of remains: From the old residential buildings, through religious monuments, to military sites, the importance of the place as trading port is evident here. Bahrain's history is an inseparable part of the kingdom. Therefore, you should definitely visit this ruin site during your vacation in the country and simply immerse yourself in the past of Bahrain sightseeing.
Information about Qal'at al Bahrain
Location: 892 3618, Karbabad, Bahrain
Opening hours: Fortaleza: every day from 8 a.m. to 6 p.m., Museum: from Tuesday to Sunday from 8 a.m. to 8 p.m.
Free entrance
5. Souq of Bab el-Bahrain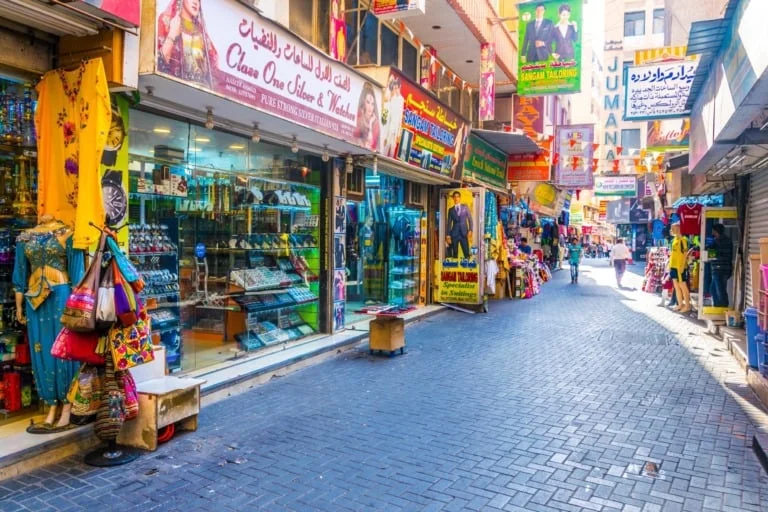 The Bab Al Bahrain building, in the center of Manama, hides its true highlight behind the pompous entrance: the souk, also called souq. What is typical of the oriental-Arab souks is that there are many alleys lined with numerous stalls and the main trade and other economic activities take place in them.
While souks are comparable to markets and bazaars, they stand out with their expansive size and diverse offerings. From local food, traditional clothing and accessories, to furniture and even animals, souks offer an abundance of goods that cater to any shopping need. The Bab Al Bahrain souq is a striking contrast to the modern high-rise buildings in Manama. Walking through its numerous narrow streets, like a labyrinth in the commercial district, is an experience like no other. Savor the local sweets and spices, explore Arabic clothing and fabrics, and immerse yourself in the lively ambiance of the souk, which is the best way to get a taste of the culture and practice your trading skills by haggling with vendors.
For a modern contrast to the traditional souk, visit the Moda Mall, located within the Bahrain World Trade Center. This mall is an architectural wonder that boasts of a spectacular view of Bahrain. Here, shoppers can indulge in a variety of stores, leisurely stroll through shops or window-shop high-end brands like Dior and Valentino. An added bonus of shopping at Moda Mall is the relief of air conditioning, which can be a refreshing respite after a day of sightseeing in the sun.
Information about Bab el-Bahrain souk
Location: Bab Al Bahrain Ave, Manama 304, Bahrain
Hours: Monday to Saturday from 8 a.m. to 10:00 p.m.
6. Bahrain National Museum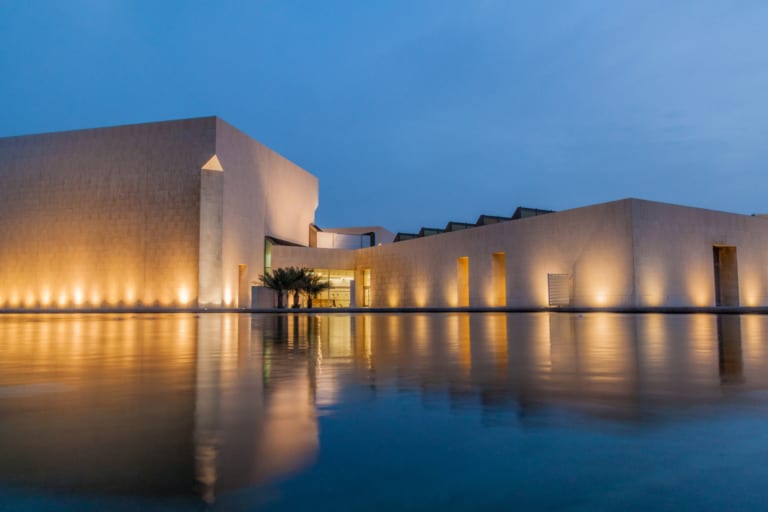 Do you want to know the traditions of Bahrain and its history? Then I recommend that you visit the Bahrain National Museum, one of the largest and oldest museums in the country. On 27,800 m² you can discover archaeological finds that date back to a history of almost 6,000 years.
Both the archeology of past civilizations and cultures and the knowledge of the country's nature make this place a real attraction. Even the cupcakes in the museum are delightful!
The information about the past before wealth – about the small fishing village and pearl diving – is totally exciting. Especially cool: The Durand Stone exhibition, where you can marvel at basalt sculpture from Babylonian times.
Information about Bahrain National Museum
Location: Shaikh Hamad Causeway, Manama, Bahrain
Opening hours: every day from 9 a.m. to 8 p.m.
Entrance fee: approx. €2.
7. Dilmun Paradise Lost Water Park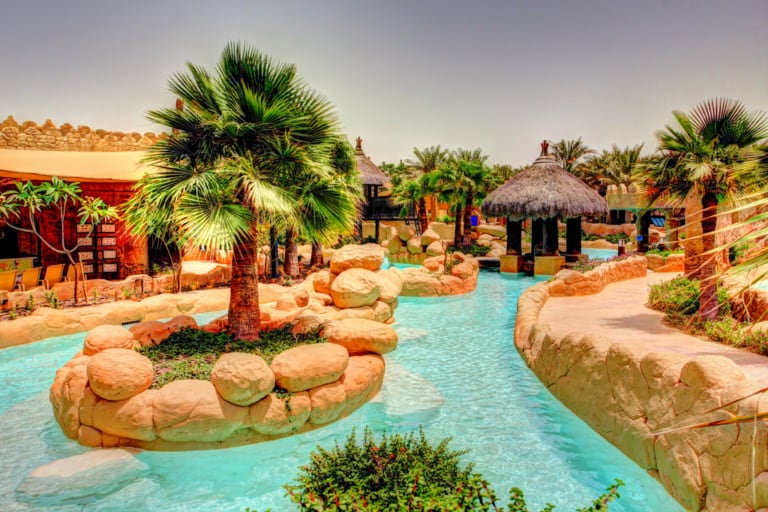 Sightseeing can be quite exhausting, but the next item on the list is sure to relax you: a dip in the Dilmun Paradise Lost Water Park, the largest aquatic reserve in Bahrain.
Here you can really let off steam, test yourself on the fast slides or slide down the ring slides, while the children play in the climbing paradise or build castles in the sand. You can also relax by the pool, enjoy an ice cold drink in the warm sunshine and a bite to eat from one of their restaurants. Whether you're still a kid at heart and need some action or prefer a lazy day by the pool, there's plenty on offer for young and old.
Tip: In Bahrain you can visit the coolest water parks even in winter, like the Lost Paradise of Dilmun, because the temperatures exceed 20°C all year long. Remember to bring sunscreen and drink plenty of water.
Information about Dilmun Paradise Lost Water Park
Location: Building 1663, Road 6227, Block 1062 Hawrat Ingah, Bahrain
Opening hours: Sundays to Thursdays: 12pm – 10pm,Fridays & Satursdays: 11am – 11pm
Admission: €19 for children under 1.20 m / otherwise, €43.
8. Pearling Path
Bahrain is the land where the most beautiful pearls in the world come from. Already in ancient times, people adorned themselves with these impressive shiny spheres, which are still of great value today. The trade in cultured pearls is prohibited in the Kingdom of Bahrain. Here you can only buy natural pearls. Have you always wanted to have these enchanting pearls on hand? Now you can on a 3.5 kilometer Pearling Path in Bahrain's old city.
Visitors also have the chance to snorkel or scuba dive and catch up to 60 oysters in one dive. If you find a pearl, you can keep it as a special keepsake. See for yourself where the Kingdom of Bahrain got its wealth from in the past and discover the world of the country's pearls under water.
9. Beit Al Quran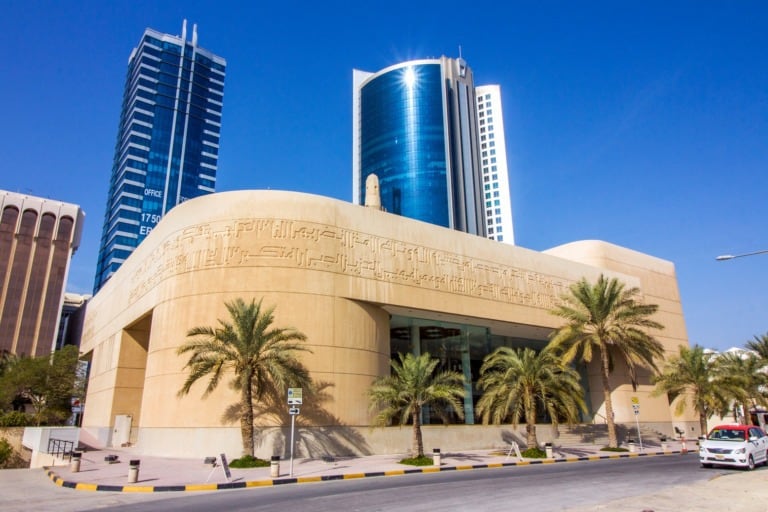 Located in Hoora, Manama, the Islamic Arts building, which includes the Islamic Museum, is the most popular and undoubtedly the most important of its kind. Beit Al Quran houses an extensive and invaluable historical collection of the Qur'an and other important manuscripts from different eras. The oldest copy of the Qur'an translated into Latin, dating from the year 955, is also safely kept in the museum.
The absolutely religiously significant collection of documents is incredibly interesting and utterly impressive. The building itself looks like a historical mosque and is a fascinating sight. Part of the building is also a mosque with an ornate glass dome, as well as a library with a staggering 50,000 books and manuscripts. The museum is divided into ten different exhibits spread over two floors and is definitely worth visiting.
Information about Beit Al Quran
Location: Building No. 17, Rd No. 1901, Manama, Bahrain.
Opening hours: Saturday-Wednesday from 8:30 a.m. to 12:00 p.m. and from 4:00 p.m. to 6:00 p.m.
Free entrance
10. Immersion in Bahrain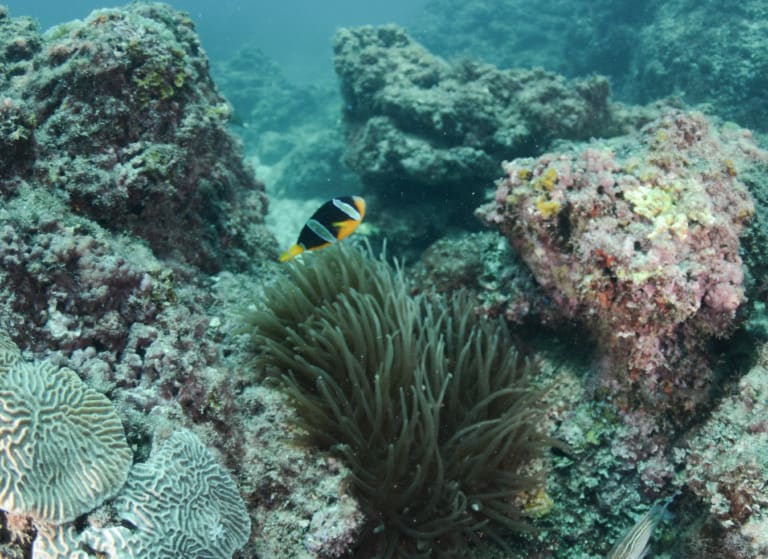 Do you belong to the passionate divers and want to explore the underwater world of Bahrain? Then the last of the Bahrain sights is perfect for you.
The 100,000 m² Dive Bahrain underwater theme park is the largest in the world and offers you places that will make every diver's heart beat faster. A special attraction is the 70-meter-long Boeing 747, which was sunk here as an artificial reef and can be explored. Note: To be able to dive in the theme park, you must have a diving license and register at one of the listed dive centers. They will organize everything else for you.