In Istanbul, a city steeped in history, you can enjoy breakfast at any time, any day you choose. However, there's something special about indulging in a brunch on the last day of the weekend. It's a chance to let go of all your stress, sit back for hours, and simply savor good food.
We've put together a list of the spots with best brunch in Istanbul, where you can unwind before the start of a new week. These Istanbul brunch venues offer open buffets, live music, and a variety of cocktails to make your Sunday even more vibrant. It's the perfect way to spend a leisurely and enjoyable time in Istanbul.
Table of Contents
1. The Peninsula Istanbul
If you're looking to enjoy a delightful brunch by the Bosphorus with a view of the Historical Peninsula, The Peninsula Istanbul is the place to be. The brunch experience at The Lobby, the restaurant located in the historic Passenger Terminal building, starts at 12:30 and goes on until 15:30. This elegant setting features high ceilings and a terrace surrounded by gardens, all accompanied by a soothing jazz performance.
When you have brunch at Peninsula, you get to enjoy a mix of Mediterranean and Turkish foods. They have lots of different things to choose from, like live cooking stations, fresh snacks, dishes you can order from a menu, stone oven pita and pizzas, a buffet with seafood, and a Beef Wellington buffet. They even have dishes from Indian and Chinese cuisines to try if you like those flavors. And make sure not to miss out on the dessert dumplings; they're a treat you've got to try!
Kemankeş Karamustafa Paşa, Karaköy, Cd. No:34, 34425 Beyoğlu/İstanbul, https://www.peninsula.com/en/istanbul/special-offers/dining/the-peninsula-brunch
2. Lacivert
Lacivert is a restaurant located by the Bosphorus, under the Anatolian side of the Fatih Sultan Mehmet Bridge. They serve a brunch that people really enjoy. The brunch has a variety of breakfast foods, hot dishes, and tasty options that Turkish people love. It's perfect for a relaxed, long meal with friends or family. You can enjoy Lacivert's brunch every Sunday while taking in the beautiful view of the Bosphorus.
Anadolu Hisarı, Körfez Cd. 57/A, 34410 Beykoz/İstanbul, https://www.instagram.com/lacivertrest/?hl=en
3. Divan Pub (Divan Kuruçeşme)
During the Crystal Sunday Brunch, you can enjoy a delightful brunch experience while taking in the breathtaking view of the Bosphorus. You'll be greeted with signature dishes crafted by Divan chefs, along with homemade pasta, a BBQ section, and areas dedicated to sushi and seafood. It's a brunch experience that combines stunning scenery with an array of delicious flavors.
While you can taste the best flavors of Turkish and World cuisine accompanied by live music between 11:30 and 15:00 on Sundays, your children can have an educational and entertaining time with activities organized by the experienced instructors of Gymy Kids Club.
Kuruçeşme, Kuruçeşme Cd. No:61A, 34345 Beşiktaş, İstanbul, https://www.divan.com.tr/restoran/divan-kurucesme-bistro
4. Four Seasons Hotel Bosphorus, Aqua
AQUA, with its stunning Bosphorus view, has started serving Sunday brunches for the new season. Enjoy live music by the Ata Marin Band while taking in the impressive Bosphorus scenery. The hotel's Head Chef Görkem Özkan and Pastry Chef Yalçın Köse, along with their talented teams, have prepared a variety of delicious dishes for you to savor.
From 12:30 to 15:30 at AQUA restaurant, you can try popular flavors from around the world, including Pan-Asian, Spanish, Italian, Indian, Latin American, and Far Eastern cuisines. It's a fantastic brunch experience with great food, live music, and breathtaking views.
Ciragan Cad. No: 28 Besiktas, Four Seasons Hotel, Istanbul https://www.fourseasons.com/bosphorus/dining/restaurants/aqua/
5. Grand Hyatt İstanbul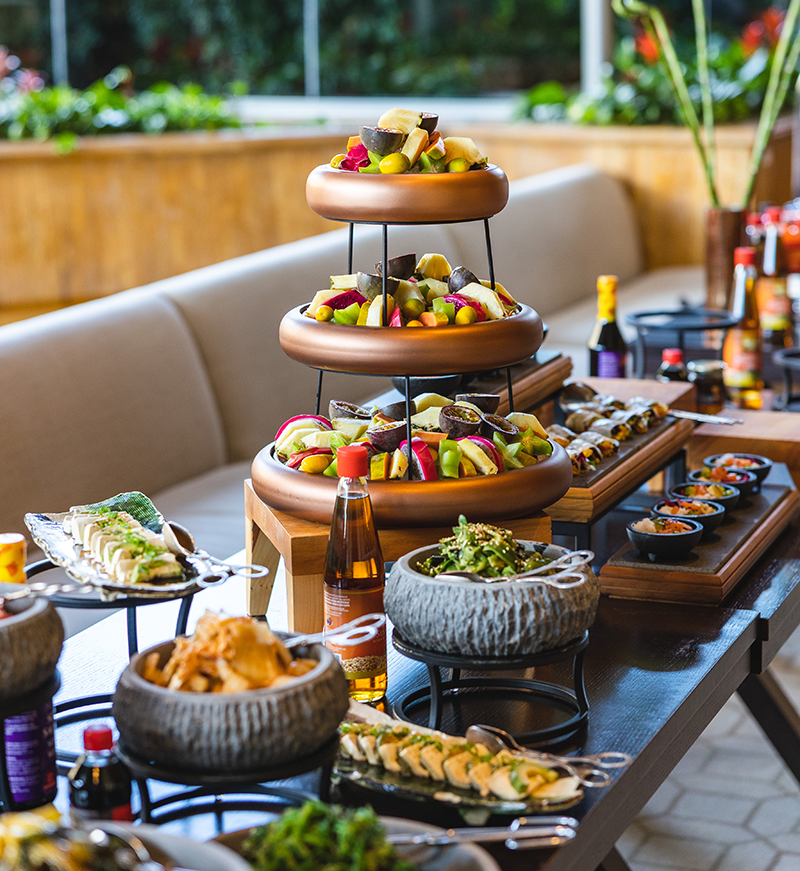 If you're a fan of Asian flavors, you can enjoy a special brunch at Grand Hyatt Istanbul. This brunch takes place every Sunday from 12:00 to 15:00 and is prepared by experienced chefs who specialize in Asian cuisine.
The Asian brunch is served buffet-style and features a wide range of delicious dishes, including kimchi, sushi, spring rolls, dim sum, sweet and sour chicken, teriyaki salmon, tempura shrimp, and ginger sauce beef ribs. There are also vegan options like wakame salad, pakchoi salad, tofu, and popular Asian desserts such as black sesame macha cake, cotton cheesecake, and mochi.
During brunch, you can also enjoy unlimited tea, coffee, and wine. It's a great way to savor the flavors of Asia right here in Istanbul.
Harbiye, Taşkışla Cd. No:1, 34367 Şişli/İstanbul,  https://www.instagram.com/grandhyattistanbul/
6. Bistro Noisette
Bistro Noisette serves up tasty breakfast options along with traditional grandma's recipes, giving them a modern twist. While the menu leans towards Italian and French cuisine, what really stands out are their croissants. These croissants are made using a special 75-year-old sourdough from France, following the original recipe.
If you're looking for brunch at Noisette, it's only available on Sundays and goes on all day. It's a delightful spot to enjoy some unique and delicious dishes.
Begonya sokak Gokmahal Gokturk Eyupsultan İstanbul , https://www.instagram.com/bistronoisette/?hl=en
7. The Grand Tarabya, The Brasserie
Every Sunday, you can enjoy a special 'jazz brunch' at The Brasserie restaurant in The Grand Tarabya Hotel, located by the beautiful Tarabya Bay. The brunch offers stunning views of the Bosphorus and kicks off at 12:00, lasting until 15:00.
The name 'jazz brunch' is not just a name; it's because you'll be serenaded by live music featuring violin and contrabass as you dine. Plus, if you have little ones with you, there are fun activities organized by the Gymy Kids expert team to keep them entertained. It's a perfect way to spend your Sunday.
Haydar Aliyev Cad. No:154 Tarabya, Sariyer, 34457 Istanbul, https://www.thegrandtarabya.com/restaurants/the-brasserie-restaurant
8. Raffles İstanbul Brunch
Raffles Istanbul Zorlu Center, located right in the heart of the city and known for its "emotional luxury" approach, continues to offer its classic Sunday brunches. Every Sunday from 12:00 to 15:30, you can enjoy a wide array of delicious treats.
The brunch spread includes an assortment of Turkish and international cheeses, olive oil tastings from the Aegean Region, stone oven pita, pizzas, barbecue delights, handmade fresh pasta, and the Pan-Asian flavors of Raffles' signature restaurant, Isokyo. Plus, they've taken care of every detail to make sure the little ones have a great time as well. It's a brunch experience that has something for everyone to enjoy.
Zorlu Center Besiktas, Besiktas, 34340 Istanbul, https://www.rafflesistanbul.com/restaurant/rocca-restoran/
9. Mandarin Oriental Bosphorus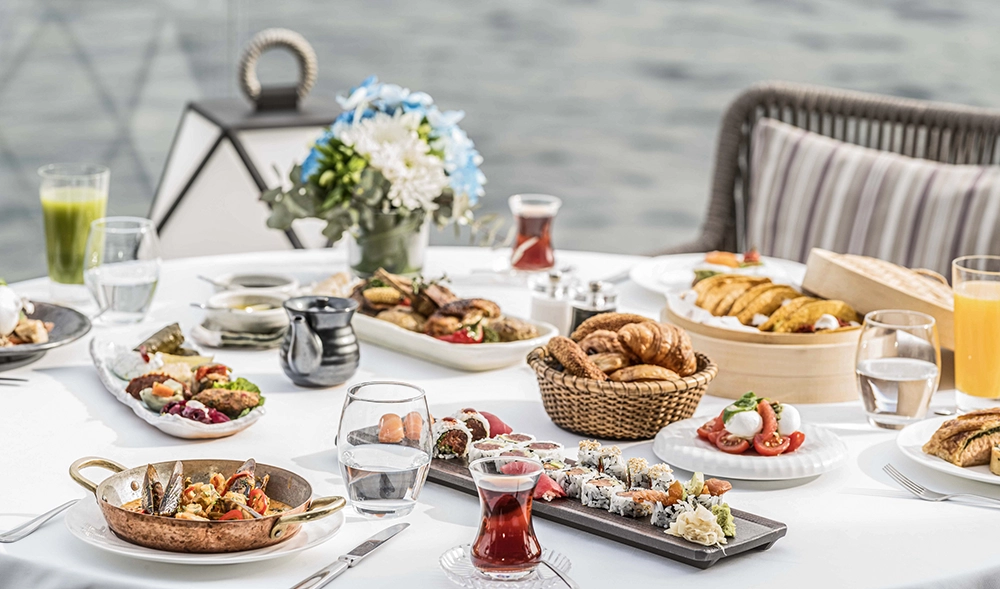 Every Sunday, Mandarin Oriental Bosphorus, Istanbul offers a special brunch experience on its beautiful terrace overlooking the Bosphorus.
Their famous Mandarin Oriental Brunch features a wide range of delicious dishes. You can enjoy delicacies from the hotel's menu, renowned sushi and seafood from Novikov Istanbul, homemade desserts from The Mandarin Cake Shop, and popular Italian cuisine flavors. There's something for everyone, from seafood to desserts, olive oil dishes, and appetizers. They also highlight unique flavors from Turkish cuisine.
The brunch takes place at Novikov every Sunday from 12:00 to 15:00, providing a delightful and satisfying culinary journey. Families with children are taken care of too. The Kids Club offers creative activities led by professional instructors for kids aged 4-12, along with Gymboree activities. Additionally, babysitting services are available upon request, making it a great family-friendly brunch.
Kuruçeşme, Muallim Naci Cd. No: 62, 34345 Beşiktaş/İstanbul, https://www.mandarinoriental.com/en/istanbul/bosphorus/dine/novikov-istanbul
10. Sabrosa Restaurant
If you're looking for a Sunday brunch spot with something to satisfy every taste, brunch in Sabrosa Restaurant is a great choice.
Their brunch features a delectable open buffet spread accompanied by live music. You can enjoy traditional Turkish dishes tailored to local tastes, as well as breakfast options, international flavors, famous street food delicacies, tasty tacos, sushi, kokoreç, tantuni, ceviche, seafood, and döner. The dessert menu is also rich, perfect for those with a sweet tooth. And to add a touch of luxury, every guest receives a glass of champagne.
This brunch takes place every Sunday from 12:00 to 15:00, offering a delightful way to spend the day while enjoying the view of Istanbul.
Swissôtel The Bosphorus Istanbul, Vişnezade, Acısu Sokaği 19 Macka, 34357 Beşiktaş/İstanbul, https://restaurantsandbars.accor.com/en/restaurant/A5D2_R006
11. HODAN
Hodan, a modern chef-driven restaurant, has quickly become one of Istanbul's most beloved brunch spots since its opening. Every Sunday from 11:00 to 15:00, Hodan invites guests to experience a unique brunch.
Chef Çiğdem Seferoğlu crafts a menu that blends fresh seasonal ingredients with the historical charm of Beyoğlu. At this brunch, you can savor traditional Turkish flavors with a creative twist. From freshly baked pitas to unique local cheese varieties and special dessert presentations, Borage offers a brunch experience that will recharge you for the week ahead. It's a must-visit destination for those seeking a delicious and unique Sunday brunch.
Firuzağa, Hayriye Cd., 34425 Beyoğlu/İstanbul, https://www.instagram.com/hodanistanbul/?hl=en
12. Shang Palace
Shang Palace, known for offering the finest Chinese cuisine, welcomes food enthusiasts in search of authentic flavors to Shangri-La Bosphorus. They've introduced a brand new Dim Sum Brunch concept, available every Sunday from 12:00 to 15:00.
At Shang Palace, Shangri-La's award-winning signature restaurant, you'll be treated to an exquisite selection of Dim Sum dishes. These are expertly crafted by Dim Sum chefs, featuring a variety of flavors from shrimp to chicken, and even red meat and vegetable options. Alongside these traditional delights, the set menu also includes starters and desserts that perfectly complement the unique Asian flavors, making it a fulfilling and memorable brunch experience.
Shangri-La Bosphorus, Sinanpaşa, Hayrettin İskelesi Sk., 34353 Beşiktaş/İstanbul, https://www.shangpalacebosphorus.com/
13. La Boom
If you're in the mood for a leisurely breakfast on the last day of the week, especially after a classic Saturday night, La Boom in Emirgan is a must-visit Bosphorus classic.
La Boom offers a modern twist on the traditional Turkish breakfast, and you can find a wide range of flavors to satisfy your palate. From various cheese selections to pastries and specially prepared desserts for the day, they've thought of everything to ensure you have a delightful day with your family or friends. It's the perfect spot to relax and enjoy a long, carefully prepared breakfast, making it a great addition to your go-to brunch list.
Emirgan, Sakıp Sabancı Cd. No:14/A, 34467 Sarıyer/İstanbul, https://www.instagram.com/laboom_emirgan/?hl=en
14. Madera
If you're in need of some Monday motivation, consider joining Madera for brunch on Sundays from 11:00 to 16:00. This restaurant, situated on the Maçka side, not only offers a delightful dining experience but also provides a delicious kickstart to your Sunday.
Madera is known for its stylish ambiance, and their Sunday brunch is no exception. It's a place where you can enjoy a special meal while beginning your Sunday with a touch of culinary excellence. It's a perfect way to wrap up the weekend and prepare for the week ahead.
Harbiye, Darülbedai Cd. No:4, 34100 Şişli/İstanbul, https://www.maderaistanbul.com/en/
---