Dubai is a vibrant city that offers a wide range of culinary experiences. From traditional Emirati cuisine to international dishes, you can find everything in this city. Here are 25 of the best restaurants in Dubai, each offering unique dining experiences.
As we delve into the best restaurants in Dubai, it's important to note that the concept of a personal or locally-inspired kitchen, as we often see in Europe, doesn't exist in the same way in Dubai. Therefore, our selection process for this article differs slightly from our usual approach.
Before delving into our list of the top restaurants in Dubai, it's important to keep in mind the following five principles that guided our selection:
It's important to note that the concept of a signature kitchen or chef's restaurant, as we understand it in Europe, doesn't exist in the same way in Dubai. While there are some exceptions, the overwhelming majority of top restaurants are located in luxury hotels. This is a trend that has remained unchanged over the years, and our selection reflects this.
It's also worth noting that local Emirati cuisine is only marginally represented in Dubai's top restaurants. While there are some notable exceptions, this is also reflected in our list below.
Dubai's gastronomic scene is largely driven by chefs and/or concepts from abroad, primarily of Anglo-Saxon origin, deployed in large restaurants. As a result, diners shouldn't expect the intimate, cozy restaurants they might be used to in Europe.
Finally, it's important to acknowledge that eating well in Dubai comes at a cost. Even casual dining can be expensive, and fine dining can be very pricey, especially if you decide to indulge in a good bottle of wine. Diners should be aware of this before planning their dining experiences in the city.
Now that you have read these usage warnings, we invite you to browse our selection of 25 best restaurants in Dubai, each offering unique dining experiences:

Table of Contents
I. DUBAI INTERNATIONAL FINANCE CENTRE / BURJ KHALIFA / DOWNTOWN

Shanghai Me
 Shanghai Me is set in an Art Deco ambiance that evokes the nostalgia of the period of concessions in China, capturing the glamorous and old-fashioned idea of Shanghai at the beginning of the century. The restaurant's decor, designed by architect Michel Bonan, features a terrace planted with bamboo and banana trees, reminiscent of the Asian jungle, while the lounges and private dining room pay homage to the celebrations of the golden age.
The menu is a generous tribute to East Asian cuisine that revisits the great classics with considerable flair. From dim sum to Peking duck, the dishes are executed with precision and beautifully presented, and the restaurant's culinary expertise is evident in every bite.
Address : DIFC, Gate Village Building 11 – Dubai 
Katsuya at The Hyde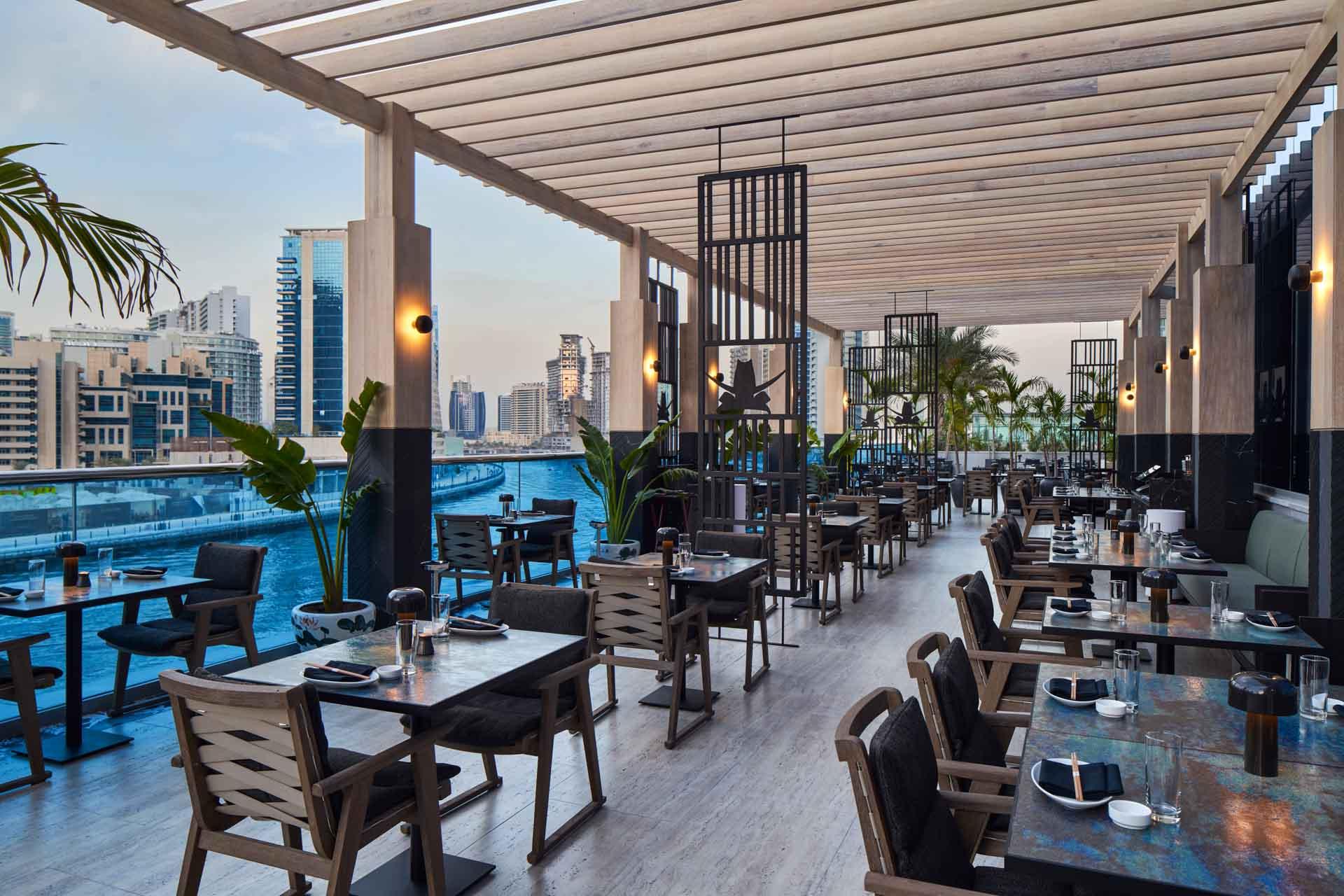 Welcome to The Hyde Hotel, located on the banks of the Dubai Canal, facing Downtown and the Burj Khalifa. From the terrace at the edge of the water, the view is breathtaking and you let yourself be carried away by a menu where traditional Japanese cuisine combines with modern techniques and international tastes. Classic sushi and specialty maki (mango, shrimp, panko, avocado or eel, cucumber, avocado and barbecue sauce) sit alongside sophisticated bites like delicious truffle edamame, crispy Brussels sprouts and lobster tempura. Meat (special mention to lamb chops) and fish are prepared on the robata grill, while a menu of inventive cocktails and sake completes the menu. Flawless.
TIP: The restaurant organizes master classes for those who want to roll their maki like a chef.
Address : The Hyde Hotel, Business Bay – Dubai / Website
Zuma Dubai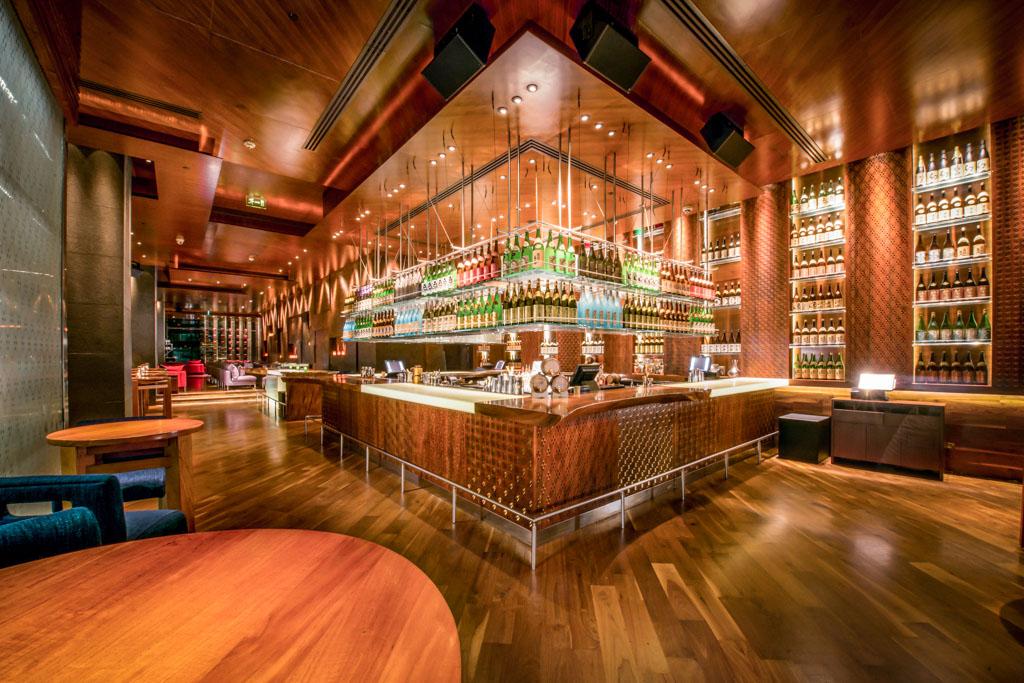 For a certain public accustomed to the tables of chefs, Zuma risks being the restaurant "too much". Too big, too trendy, too design, too marketed, too many à la carte choices or too expensive… in short, a restaurant that is too much  ! They won't be entirely wrong, but by not ticking Zuma box, they will be depriving themselves of a moment of pure pleasure. Much more than a simple concept formed in an industrial way (remember, the brand was first created in London), Zuma perfectly embodies the best of both worlds in terms of catering: the informal and generous approach of a casual restaurant on the one hand; the implacable requirement and rigor ( sourcing products, cuisine, service, exceptional wine list, not to mention that of sake, almost unique outside of Japan) from one fine dining table to the other.
 And it turns out that Zuma, which defines itself as an izakaya ( a Japanese bistro), is always perfect. Sushi, sashimi, Wagyu tataki, black cod with miso sauce, braised beef cheek but also some well-chosen vegetable creations like this tomato-aubergine salad, the beautiful products are sublimated by flawless execution: unstoppable recipes, perfect cooking, seasonings of surgical precision-Zuma will blow your mind!
EXTRA TIP: If you like to eat, opt for the daikoku menu and leave carte blanche to the chef. It's not cheap (694 AED) but much more reasonable than combining orders à la carte.
Address : Gate Village 06, Podium Level, Al Sa'ada St – DIFC
Carna
Dario Cecchini, the most famous Tuscan butcher in the world (he even got his Chef's Table episode on Netflix) chose the SLS Dubai hotel for his first restaurant in the Middle East. If vegetarian options are on the menu, this steakhouse is more of a carnivore haunt. A prime restaurant room, chic bar, private dining rooms, decadent wine cellar and open kitchen, the Great Room opens up to the Dubai towers and the desert. Lamb, beef and veal are the stars, and signature dishes such as bistecca alla fiorentina, local burrata from the emirate of Fujairah, Chateaubriand for two or Wagyu beef carpaccio are sensational in the dining room and on the palate.
Address : Gate Village 06, Podium Level, Al Sa'ada St – DIFC / Website
LPM Restaurant & Bar
Renowned address of DIFC, LPM is the Emirati version of the famous Nice restaurant – La Petite Maison – frequented by the world elite. In the heart of Dubai's Wall Street, LPM Restaurant & Bar offers the great classics of the house (grilled eggplant, rigatoni with truffles, sea bass in a salt crust, chicken with foie gras) served in a modern, elegant and bright. The ideal spot for expats nostalgic for the Côte d'Azur.
Address: Gate Village No, 8, Dubai International Financial Center
Armani Amal 
First Indian cuisine address on our list. Here, within the superb Armani Hotel, perched on the first floors of Burj Khalifa, it is not so much for the quality of the dining, than for the spectacular decor with its terrace overlooking the fountains of the Dubai Mall. All you have to do is look up to see that you are at the foot of the tallest tower in the world. The quintessence of Dubai.
Address: Level 3, Armani Hotel Dubai, Burj Khalifa, Downtown Dubai
II. JUMEIRAH BEACH
Nusr-Et
Nusret Gökçe is a renowned Turkish meat specialist and restaurateur,but he is above all a social media star with millions of subscribers to his Instagram account . " If you are not sure to see the most glamorous butcher in the world during your visit to his restaurant in Dubai, you will be sure and certain to treat yourself to a good steak.
Address : Restaurant Village, Four Seasons Resort Dubai at Jumeirah Beach
 
COYA Dubai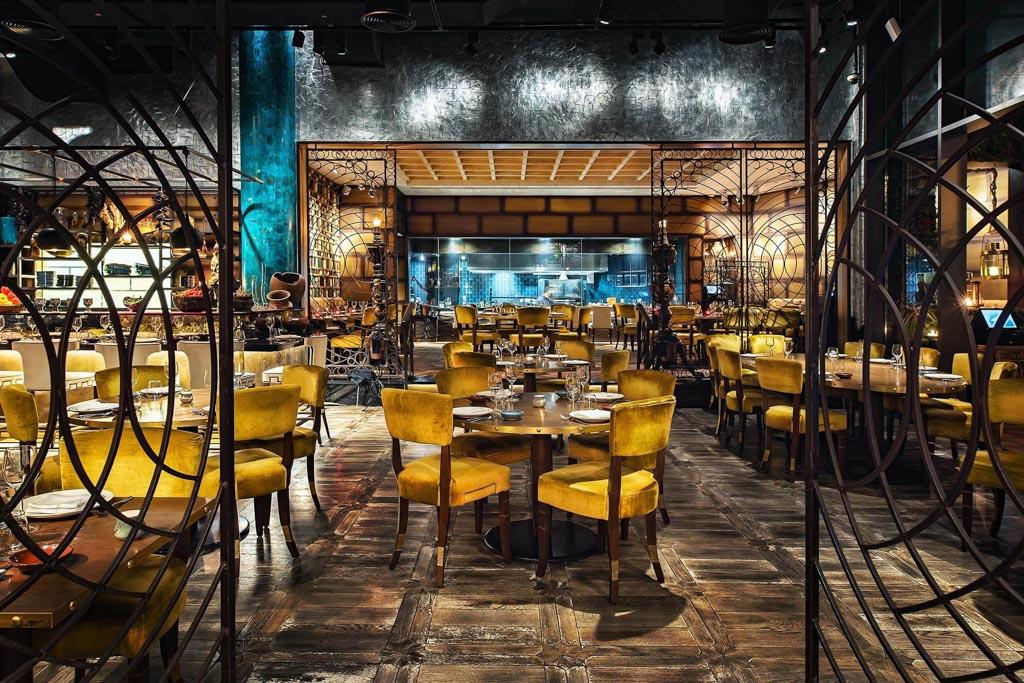 It's hard to find a restaurant in Dubai that isn't affiliated with a foreign chef, preferably a world-famous chef, an internationally renowned concept or brand. Coya is no exception to the rule. This restaurant showcases the rich Peruvian gastronomy. After a first address in Mayfair, Coya has duplicated its London success in Dubai on an unprecedented scale. The result is up to expectations. Grandiose decor, irreproachable dishes , attentive service, the experience is as fluid as it is exciting.
 TIP: Despite a large capacity, the restaurant is often full (dinners, weekends). Reservation highly recommended accordingly.
Address : Restaurant Village Four Seasons Resort Jumeirah Beach Road, Jumeirah 2
Seva Experience 
Welcome to this wooden house located in the heart of the expat residential neighborhoods close to the sea. Café Seva is a delicious experience in itself: in a flowery, lush and shaded garden, customers are invited to sit on the ground on comfortable cushions to share a 100% vegetable lunch– the burger stacked with lentils, mushrooms, cereals, cucumber pickles, vegan cheese, caramelized onions, lettuce, tomato, mustard and mayo turns out to be incongruously greedy. Mushroom cooked confit and seasoned with oregano, fresh herbs, basil, garlic, thyme and virgin olive oil. It completes a choice of hot dishes, salads, soups, vegetable drinks, and happy faces. Frequented by yoga practitioners as well as the coolest babas, Seva offers tasty lessons in letting go, in addition to the quality of the dishes. 
Address: Jumeirah Beach Road, 27B Street, Villa 5/1B Jumeirah 1 Postcode: 413752 – Dubai
Pierchic  
Located at the end of a wooden pier jutting out above the blue waves of the Persian Gulf, the Pierchic is the most beautiful of the restaurants in the Madinat Jumeirah, a huge hotel complex inspired by an ancient Arab citadel. Reputed to be one of the most romantic restaurants in town (walking intertwined on the pier is reminiscent of the Maldives), Pierchic is taken over by couples in the evening.
Address: Al Sufouh Rd, Al Qasr at Madinat Jumeirah
Zheng He's
Zheng He's, a contemporary Chinese cuisine restaurant belonging to the huge Madinat Jumeirah resort and holiday club, is one of the favorite addresses of catering professionals in Dubai. And reading the reviews on TripAdvisor  , the general public shares this good opinion about this restaurant with terrace and views of the Burj Al Arab hotel.
Address: Jumeirah Mina A' Salam, Madinat Jumeirah
Eauzone  
Willingly described as romantic and intimate, Eauzone is one of the prettiest restaurants at the very chic  Royal Mirage , the splendid One&Only resort stretching over a kilometer of private beach, not far from the Palm Jumeirah and Dubai Marina. As if placed on the water, this Asian fusion table (Thai and Japanese influences dominate the menu) delivers the promised experience: that of being able to dine in peace in the heart of one of the most beautiful areas of Dubai – the gardens of Royal Mirage extend over 26 hectares – and a stone's throw from the beach.
Address: One&Only Royal Mirage at Arabian Court – Al Sufouh Rd, Jumeirah Rd
III. PALM JUMEIRAH
STAY by Yannick Alléno
It is in one of the most beautiful resorts in the city, the ultra luxurious One&Only The Palm  that the three-starred chef at the Pavillon Ledoyen took his summer quarters. In an opulent setting STAY, he unfolds his vision of French cuisine oscillating between classics (pan-fried foie gras; poached blue lobster; quenelles of scallops) and more contemporary experiments (langoustines with vanilla and tamarind juice; turbot with mustard cacio and peppe sauce). The most beautiful address of Palm Jumeirah.
Address : One&Only The Palm – The Palm Jumeirah
Laguna Beach Taverna & Lounge
 It's like being on a Greek island or in Italy at the Laguna Beach Taverna, feet in the water on the beach of the Sofitel Dubai The Palm hotel. Relaxed atmosphere, sails dancing in the wind, wooden tables and greenery serve as the setting for simple and fresh Mediterranean cuisine, as one expects by the sea- lamb, octopus and whole sea bass, the menu draws in turn from Greece, Italy and as far as the Levant. As an accompaniment, you must try the multicolored carrots with yogurt and Dhukka, the orange-fennel-dill salad like in Naples or the asparagus with pecorino.
Address : Sofitel Dubai The Palm Palm Jumeirah, East – Crescent Rd – Dubai
Raffles The Palm
It's arguably Dubai's most exclusive dining experience. In the Raffles The Palm hotel, all in gilding and sparkling mirrors, the lounge on the top floor, ultra contemporary, sets the mood and is the starting point for a dinner that begins after getting in the elevator to reach the upper floor, inaccessible to the public. The doors open, the large round table is set up, waiters, one per person, are waiting for us with glasses of champagne and bites of foie gras, caviar, etc. The egg-shaped room is reminiscent of a James Bond landmark, and opens onto a long balcony and a kitchen where, for us only, Australian chef Andrew James McKee serves. The menu matches the feeling of chic, noble and luxurious products prepared before our eyes, flamboyant decor. Unique experience.
Address : West Cresent Palm – Jumeirah – Dubai
Bread Street Kitchen
It's the indescribable Gordon Ramsay' restaurant . Within the immense Atlantis, Dubai's paradise for children, he signs a large brasserie influenced by his country of origin and working primarily with seasonal products. Not enough to make the trip from Downtown but if you are staying in Atlantis or elsewhere on the Palm Jumeirah, Bread Street Kitchen is a safe choice.

101 Dining Lounge & Bar, One & Only The Palm 
101 Dining Lounge & Bar is one of the three addresses supervised by Yannick Alléno within One&Only The Palm, chic lounge atmosphere, spacious terrace, spectacular views of the Dubai Marina skyline and Mediterranean menu make it one of the best tables in the Palm Jumeirah at lunch or aperitif time.
Hakkasan 
Another global catering brand ( London, Las Vegas, Mumbai, Abu Dhabi, New York, Miami, etc.) with a precise concept (Cantonese cuisine in a contemporary fine dining style and glamorous decor), Hakkasan could not fail to be present in Dubai. And in the genre, Hakkasan is a real success.
Address: G Floor, Emirates Towers Hotel, Trade Center Area.
IV. DUBAI MARINA
Marina Social
Jason Atherton is a highly successful restaurateur with around fifteen restaurants worldwide and several Michelin stars to his name. He has also established a presence in Dubai and he has managed to adapt to the local environment with great skill. While his Jing'an and Shanghai restaurants have a trendy hybrid gastropub-meets-tapas-bar format, his Dubai establishment, located on the first floor of the InterContinental Dubai Marina, appears more conventional at first glance. The large terrace with a view of the Marina, the open kitchens, and the large table d'hôtes all seem promising, but ultimately, they seem quite typical for our time.
However, once you start ordering, it quickly becomes apparent that Jason Atherton has not abandoned his creativity in the Emirates. Despite the temptation to conform to standard forms, he manages to create some amazing dishes, such as his signature foie gras version of a hot dog and a trompe l'oeil beefsteak tomato stuffed with burrata, which are both playful and surprising without feeling gimmicky. The food is excellent, and perhaps most importantly, Jason Atherton and his team never take themselves too seriously, which creates a warm and inviting atmosphere.
 Address : InterContinental Dubai Marina – Bay Central, Dubai Marina, Jumeirah Beach Residence
Indigo by Vineet
Not the most glamorous restaurant in our selection, but one of the most accomplished for tasting high-quality Indian cuisine (which, incidentally, you pay a high price for), created by the Indian chef Vineet Bhatia, who has been awarded a star in London . Indigo by Vineet is by all accounts the best Indian restaurant in Dubai.
Address: Grosvenor House Tower One، Al Sufouh road
Rüya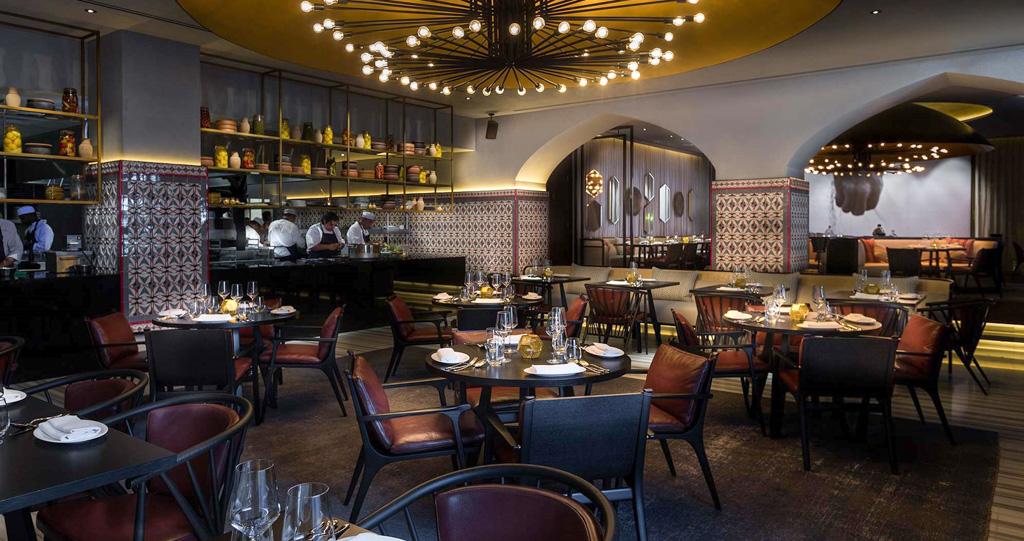 Still within Grosvenor House, an elegant 5-star hotel in Dubai Marina, Ruya is one of the addresses that is currently creating buzz in the city. Opened in 2016, this table specializing in Turkish gastronomy benefits from the support of heavyweights in the Dubai catering industry (the partners behind Zuma, Coya and Nusr-Et, all three listed above) and a chef trained in school, Jean-Georges Vongerichten.
Address: 1st Floor, Lobby Level Grosvenor House Al Sufouh Road, Dubai Marina
V. OTHER ADDRESSESS IN DUBAI

 Al-Fanar
 It is in the Dubai Festival City Mall, not far from the airport, that we find Al-Fanar, a local chain (it has several addresses in the United Arab Emirates) specializing in indigenous cuisine. Vintage decor to relive the atmosphere of Dubai in the 1960s but really affordable prices (to put it simply, Al-Fanar is the cheapest restaurant on this list).
Address: Canal Walk, Dubai Festival City Mall
Miran Arbil
Venture into Dubai's most popular district, on one of Deira's main thoroughfares, and order a 'masgouf'. The huge freshwater fish (3 to 4 kilos, 4 to 8 people) is smoked, whole, for 45 minutes around a giant hearth (whose flames can be admired through the glass walls). Pierced vertically on wooden sticks, the animal is then placed directly on the coals, without scales. But it is only when you taste the exceptional texture and flavor of the flesh that you realize the quality of this method of cooking. Miran Erbil is surprisingly good experience!
Address: Al Rigga Rd, Dubai
Dubai Falafel Sultan
 In the working-class district of Deira, blindly trust the ordinary yellow and green neon sign. They certainly serve the best falafel in Dubai here. Crispy, suave, extra-fresh and accompanied by a tasty homemade sauce. Custom dictates that you crush the warm chickpea dumpling yourself with the palm of your hand, which you place inside ultra-soft fresh bread with a few pickles (olives, sweet peppers, carrots ), add whole chickpeas, garlic sauce, hummus, roasted cauliflower endings, fried eggplant cubes, harissa and more if you like. We enjoy street food authentic from the Gulf, cooked to order, to be eaten in the street, on the plastic tables provided for this purpose. Ideal after a visit to the gold or spice souks, just next door.
Address: 24 Al Muraqqabat St – Deira – Dubai – United Arab Emirates
The Farm
 Finally an address that is neither the restaurant of a great international chef, nor located in a hotel, nor the variation of a successful concept. Located in the green district of Al Barari, The Farm, as its name suggests, offers the possibility – rare in Dubai – of having lunch in the middle of a rural and bucolic setting. The Farm's philosophy is simple, to serve high-quality, wholesome food the way nature intended, in a relaxed and tranquil setting. The flavors of The Farm are inspired from around the world, from Thai and Mediterranean to Middle Eastern, Indian, and Asian.
Address: The Farm at Al Barari, Nad Al Sheba Area, opposite to Global Village
---
---
LATEST POSTS: