After several trips to Morocco on a road trip, more particularly in southern Morocco, I can afford to give you some useful tips for traveling in Morocco. This guide will give you all the advice for a successful stay, some warnings, the budget to plan, and the best itinerary in Morocco.
The best tips for traveling in Morocco
To organize your trip to Morocco easily, it is good to know a few essential things before departure. I made a summary of frequently asked questions about this Maghreb country and I bring simple answers and valuable advice.
When is the best time to go to Morocco?
Table of Contents
 Depending on the route you take, the climate will change a lot and it is therefore difficult to tell you when to go to Morocco. One thing is certain, the risk of rain is rare. In fact, it is possible to go to Morocco all year round. You should know that December and January are a little colder and you will not be able to enjoy the swimming pool or the beach. on the other hand, July / August is a very hot period where temperatures can easily reach 50 degrees in southern Morocco.
Finally, each season has advantages. In spring Morocco has the most beautiful vegetation, the argan trees are in bloom around May, the best season in Morocco to see varied landscapes. Then, in summer, nature turns yellow and the desert comes into its own. The winter is cool and therefore conducive to hiking. Finally, in autumn, everything is burnt by the sun but it is less hot.
Book your plane ticket to Morocco
Preparing for your trip to Morocco as well as possible also means booking your plane ticket to Morocco in advance. If you go in high season, the ticket price will be more expensive. To find the best price, I advise you to use a flight comparator. Remember to check the validity of your passport.
Depending on your choice of itinerary, you will choose Agadir, Marrakech, or Ouarzazate as your arrival airport.
What budget should I plan to travel to Morocco?
Here is how to prepare for your trip to Morocco with an average budget :
What budget for a night in Morocco?
How much does a standard double room cost in Morocco? It depends on where you are. In the cities, you will find Bed and Breakfasts or guest houses that are not too expensive. As for the desert, it has become fashionable and prices have exploded in recent years. From a night at 20 euros for a luxury hotel, prices have gone to exorbitant rates for some of them. Count at least 50 € in the desert and 20 € in the cities.
Be careful, the Riads of Marrakech are often magnificent but the costs are sometimes excessive. By well in advance, you are likely to find the rare pearl. A real pleasure to enjoy the rooftops and the swimming pool in the heart of the effervescence of the city center.
What food budget for a road trip in Morocco?
Eating in Morocco is quite cheap, in fact, you can go to a restaurant every day, and it won't ruin your budget. A meal can be worth 20 to 150 dirhams, or 2 to 14 euros. Even in a chic restaurant, you will not exceed 40 euros.  And then on a road trip, it is best to buy some snacks from the grocery .
Traveler budget ( for 2 people)
It is good to know that the currency of Morocco is the Dirham and keep in mind that approximately 1€ = 10 dirhams.
From exhilarating souks to camel caravans in the desert, I advise you to plan an average budget of 900 € for 1 week in Morocco for two. This implies that you stay on a budget but at the same time can afford a few extras like a trip to the Moroccan desert or a night in a beautiful riad in Marrakech.
Morocco budget for two people:
€50 per night for accommodation
30 € / day for food
25 € / day for the car
You have 165 euros left to indulge yourself with a some fun things you can do in Morocco , a camel ride or a very good meal in a hotel with a swimming pool.
I invite you to go further down in this article, I have dedicated a whole paragraph to car rental to prepare for your trip to Morocco without any problems.
Other tips for planning your budget in Morocco
Another piece of advice, have cash on you before going too far south of Morocco because it will be difficult to withdraw cash, as ATMs are becoming rarer. 
Which vaccines for Morocco? Health Risk Advice in Morocco
Should I be vaccinated to travel to Morocco?
There are no compulsory vaccines in Morocco but you must respect essential hygiene measures to avoid getting sick. A bit like in the event of an epidemic, you must wash your hands regularly, and do not bring your fingers to your mouth. As a precaution, the hepatitis A vaccine and the typhoid vaccine are recommended. If you plan to travel often, it may be time to do them.
Illness and health advice in Morocco
Provide yourself with a good first aid kit. And don't drink from the tap , only bottled water, always check that the bottle is opened in front of you. Beware of a few cases of bottle scams falsely sealed with glue. Glue residue is visible when unscrewing the cap. For washing teeth it's the same, stay with mineral water. Alas, it's really not eco-friendly in terms of plastic bottle consumption but there are no other solutions. You can always buy a big barrel of water and refill a 1.5L bottle as needed. 
Driving in the South of Morocco
Rest assured, outside of big cities like Marrakech, driving in Morocco is not as complicated as they say. You will tend to be in control of the road since there are few people traveling long distances in the south. Be careful, however, of the huge overloaded trucks, you have to pass them or follow with caution. This is particularly the case towards the High Atlas.
Risks on the roads in Morocco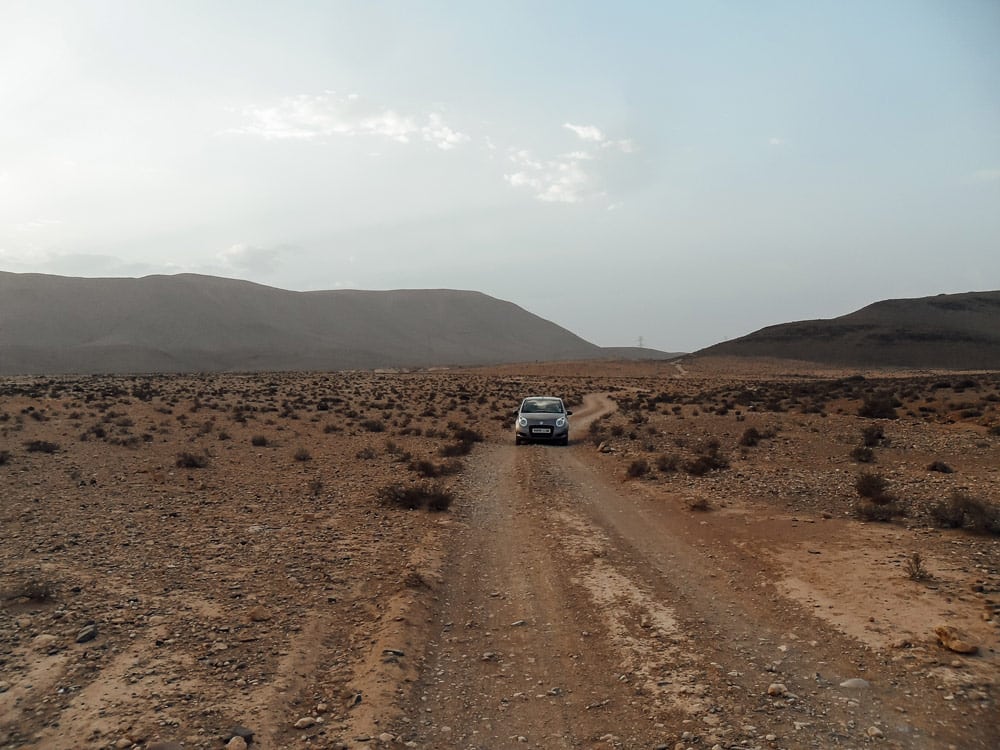 You must therefore remain vigilant, traffic is dangerous only for these reasons :
many do not respect the highway code
animals roaming the roads
certain unpredictable behavior on the part of public transport drivers (large taxis, coaches, trucks)
people walking on the road at night without city lights
the risk of impacts on the windshield because of many small stones on the roads
when you come across a vehicle in the wrong direction on a bad road, it may suddenly come across you on the right (the first time is surprising)
In some places, the roads of Morocco are in poor condition but do not present great difficulties because they are quite flat, and made of small gravel. WARNING: Do not try to cross a wadi even with a 4×4 (a dry river most often made of crevasse). The most risky will certainly be in the desert where I advise you not to get bogged down with 45 degrees in the shade… Besides, be careful about what the rental company authorizes for rental.
Gasoline prices in Morocco
Petrol in Morocco is cheaper than in the United States and most European countries(around 1€ per liter), perfect for enjoying a long road trip without breaking the bank.
Car rental in Morocco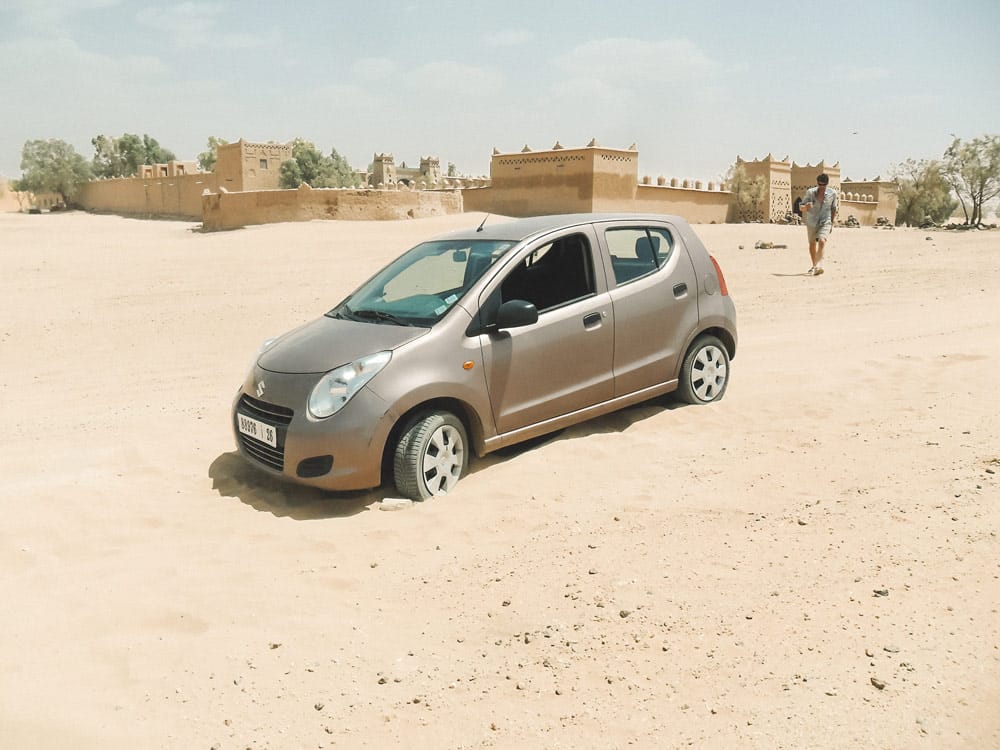 In Morocco, there are big car rental companies like Rent-A-Car or Avis. You can also take a car from a local rental company, it's cheaper and the services are more adaptable to each situation. Also, it will get you out of trouble on the road more efficiently in general. Regarding insurance, check with the rental company. I advise you to take out comprehensive insurance.
The rental car is to be picked up as soon as you leave the airport. Dedicated car parks for these passenger cars are a 2-minute walk from the airport hall. It's very simple, someone from the rental agency comes with you to take stock of any traces or problems visible on the bodywork. Do not hesitate to take some photos or a short film with your phone (the photo is dated on the phone in case of a problem) of the exterior and the interior before starting your road trip. If it is a local agency, check that it has a counter at the airport or organize an appointment with it for your arrival by plane.
Should you rent a 4×4 for a road trip in Morocco?
Some roads turn into a track but most of the time, it remains quite passable in an ordinary car. Certainly, the 4×4 will allow you to venture further into the deserts or to progress on isolated paths without stress. But the 4×4 has a cost, count 45 euros per day against 25 euros for a city car. So depending on your budget, you will rent a 4×4 or a classic car.
How to call with your mobile phone in Morocco?
To call with your mobile phone in Morocco, you can use your package if it has a world option or buy a not-always advantageous traveler pack which is offered to you by SMS when you switch on your phone when leaving the plane.
Otherwise, if you want to have internet everywhere, the most interesting thing is to buy a Moroccan SIM card on the spot. This prepaid card is very easy to use on an unlocked phone and you don't lose your phone's data or access to your favorite applications. Only your phone number changes. You can buy communication credit if necessary in Maroc Telecom, Orange, or Inwi telephone shops.
Alternatively, disable data roaming in your phone settings and enable wifi. You will then only have internet access in hotels and restaurants offering WIFI.
How to prepare for your trip to Morocco? know how to speak a few words of Arabic
To appear more respectful of the country you are visiting, it is always good to know a few words in the most spoken language, here Moroccan. The most useful is to learn the Moroccan formulas of politeness, the basis for communicating.
Hello: Salam
Goodbye: Bslama
Please: Afak
Thank you: Choukrane
No: Lla
Yes: Ayeh
Yallah!: Let's go!
that's enough: Safi
When someone says Salaam Alaikoum, we answer Wa Alaikoum Saalam, it is an expression to welcome.
What are the Moroccans like?
Moroccans are kind, smiling, and generous people. They will be happy to welcome you to their home for the mint tea ceremony while chatting quietly. However, tourism has taken its toll on the behavior of some. It is not uncommon in large cities like Fez or Marrakech to feel a noticeable aggressiveness. Unpleasant remarks by shopkeepers when you don't buy anything, gestures from passers-by to spoil the photo you wanted to take, a growing exasperation that breaks the pleasure of the holidays a little.
My advice on this subject is to move towards areas less damaged by mass tourism, and to visit Morocco off the beaten track. The road trip lends itself perfectly to this, do not hesitate to pass quickly on the exchanges in the urban centers. You will have plenty of time to meet adorable Moroccans in more remote villages .
Traveling to Morocco during Ramadan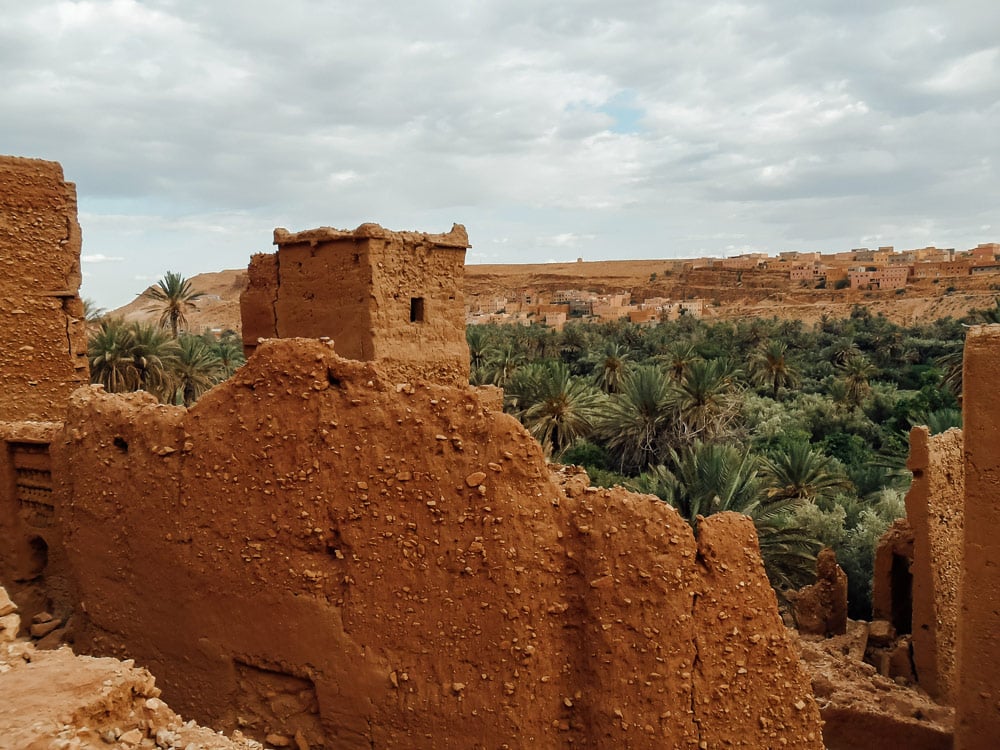 Remember that the exact date of Ramadan is a little different every year, in the year 2024 it will start on the evening of Sunday, March 10, 2024, and end on the evening of Tuesday, April 9. During this period of fasting, the population no longer lives at the same pace. Prayers and meals no longer follow the usual schedules. During the day, the streets are deserted, and many take long naps to survive without eating.
Disadvantages of going to Morocco during Ramadan
The streets are deserted, and the cities are less animated
You will find many restaurants closed.
Try not to eat or drink in public.
Benefits of traveling to Morocco during Ramadan
Fewer tourists, and vacationers are fleeing Ramadan, which is less favorable to all kinds of tourist activities. This leaves you free to explore the country in a more authentic way.
The souks are calmer, you feel less pressure from certain traders while walking in the medinas.
 IMPORTANT: Remember that the exact date of Ramadan is a little different every year,in the year 2024 it will start on the evening of Sunday, March 10 2024, and end on the evening of Tuesday, April 9.
What is the best itinerary in Morocco?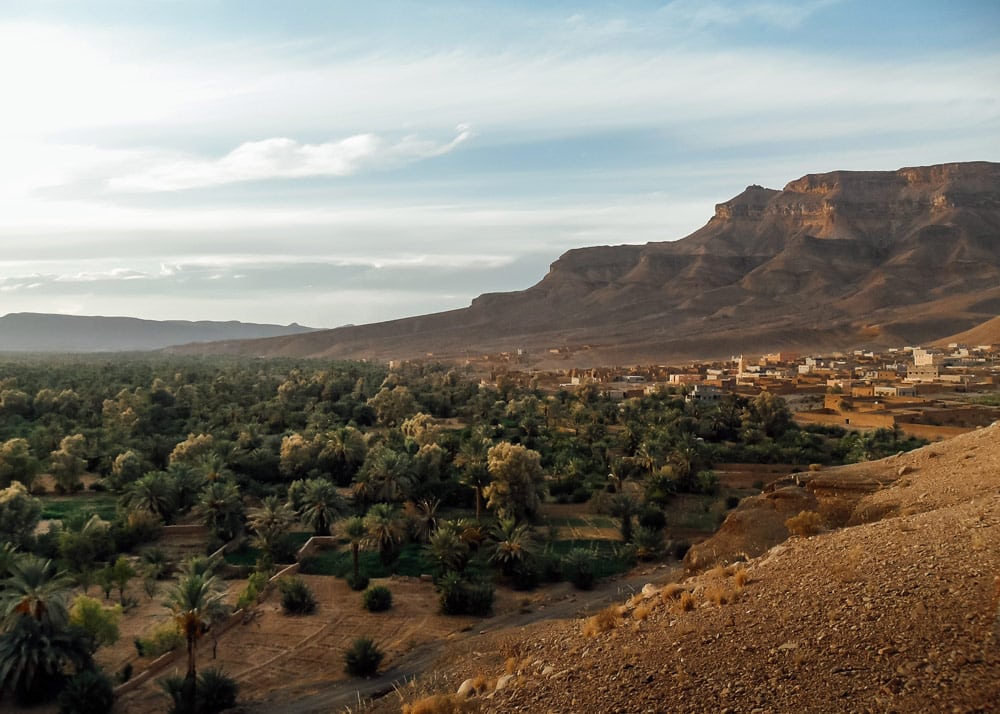 Without a doubt, if I had to choose the most beautiful road trip in Morocco, it would be the circuit that includes the city of Marrakech, the oasis of Ouarzazate, and the desert of Merzouga. But the stone desert of Tafraout left me speechless and the isolated roads of southern Morocco feel like Nevada. An almost impossible choice to make. 
Which desert to choose between M'hamid and Merzouga? the most beautiful desert between erg Chegaga and erg Chebbi
M'hamid is a good compromise if you don't want to drive too much. You will have a first experience of the sand and stone desert. Indeed, the Chegaga dunes (M'hamid) are larger than the Chebbi dunes (Merzouga), but they alternate with flat desert expanses and rocky mountains. To access the dunes, a 4×4 vehicle is necessary, or you can hire the services of a guide equipped with a suitable vehicle.
Therefore, if you want to experience the real desert, the one from the tales of One Thousand and One Nights, with endless dunes, camel caravans, and golden sand, I recommend choosing the Merzouga desert. Although the journey to get there is long, there are hotels along the desert.
Should you haggle in Morocco?
The biggest cliché of Morocco is haggling with the merchant. Indeed, it was originally a custom to take time to decide on a purchase, to have green tea with mint, to examine the item from all angles, and to reflect and negotiate the price until reaching an agreement. Unfortunately, haggling has suffered from tourism, and some Moroccan vendors no longer enjoy the game of negotiation with tourists. If you don't wish to buy something, it's better to say so from the beginning. Otherwise, don't waste time haggling in overly touristy areas. It's better to visit more remote souks where you'll get better prices without needing to bargain too much.
Moroccan specialties not to be missed
As in all countries, there are unique dishes that you absolutely have to taste. Here are some of the Moroccan specialties and typical crafts that make the richness of this beautiful country.
Argan oil (oil extracted from the endemic tree of Morocco, the argan tree)
Sweet mint tea (at all times and for all occasions)
Dates (sweet fruit), gazelle horns (pastry with honey and almonds), chicken tagine with candied fruit (often with lemon), Moroccan couscous, oranges from Morocco
Moroccan craftsmanship: pottery and ceramics, Berber rugs and Kilim, recycled tire baskets, leather poufs, and basketry objects…