Bodrum, a beloved destination in Muğla, stands as a gem on the Aegean coast. Its stunning beaches, ancient ruins, vibrant nightlife, and charming holiday villages make it a top choice for summer vacationers, tourists, and even celebrities. As you stroll along the flower-adorned streets with their white and turquoise walls, you'll feel like you've entered a different world. Bodrum's cobblestone paths, delightful restaurants, lush landscapes, and breathtaking views make it a must-visit place for everyone.
Discover Places To Visit In Bodrum:
Table of Contents
-Symbolic Places
1. Bodrum Windmills
The Bodrum Windmills, were built in the 1850s between Bodrum and Gumbet. These windmills are pretty important symbols of Bodrum. They were cleverly designed to harness the strong winds of the region. You can easily get there in about 10 minutes by your car, or you can hop on a minibus or take a taxi.
Now, here's the thing: these windmills haven't been restored to keep their original look. That's nice in terms of preserving history, but it means some of them are in pretty bad shape. In fact, there's only one that still works, but it's not in the best condition, which is a bit sad.
-Museums
2. Bodrum Underwater Archeology Museum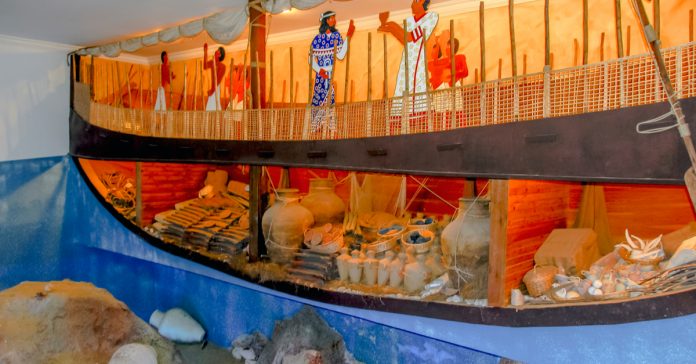 Bodrum Underwater Archeology Museum, which is among the most important and limited museums in the world, is the only underwater archeology museum in Turkey. In this museum located within Bodrum Castle, artifacts unearthed from excavations in Bodrum and its surroundings as well as remains obtained from underwater excavations are exhibited.
Inside the museum, you'll find 14 exhibition halls, and most of the stuff they've got on display are these ancient containers called amphoras. What's cool is that some of these amphoras were actually gifts from folks who were into sponge diving.
But here's the real gem: the museum's got this ancient shipwreck on display. It's from way back in 1025, and it's the oldest sunken ship in the world that's been found. You can see it at the Serçe Harbor Glass Shipwreck Hall.
3. Bodrum Maritime Museum
The Bodrum Maritime Museum originally started in a tent outside Bodrum Castle in 2010. Later, thanks to contributions from Bodrum Municipality, it moved to an old building called the bedesten and reopened as a museum. In the museum, you can see models of different types of boats and seashells from various places. There are also special items, photos, and historical documents from a local fisherman named Cevat Şakir Kabaağaçlı. The museum regularly hosts events and seminars, so you might stumble upon one when you visit.
-Exhibition And Art Galleries
4. Dibeklihan Culture and Art Village

The Dibeklihan Culture and Art Village, opened in 2013, is a special place known for its beautiful architecture and location. Inside, you can find art galleries, design workshops, craft shops, restaurants, and cafes. This village hosts various exhibitions, including sculptures and paintings, as well as film and dance shows, concerts, fashion events, and cultural activities. It's also a popular spot for special occasions like engagements, weddings, and receptions, especially in the summer. In the "Storage Room" section, you can explore exhibits showcasing everyday items used by local people in the past. The Dibeklihan Culture and Art Village offers a unique atmosphere and the chance to enjoy wonderful moments through its exhibitions, events, and gatherings!
5. Ottoman Shipyard Art Gallery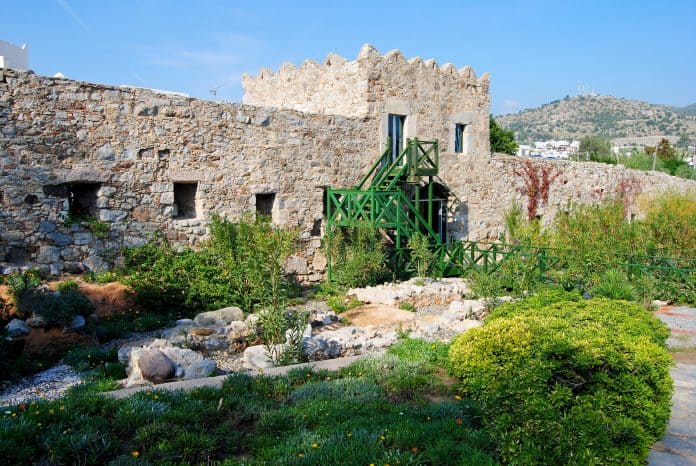 The Ottoman Shipyard, constructed in 1775, stands in the northwest part of Bodrum Port. It used to be a place where many ships were built, but today it has been transformed into an art gallery. Over time, the shipyard expanded during the Ottoman era.
Behind the shipyard, you can find the tombs of the Anonymous Horseman and Cafer Pasha, a notable Ottoman sailor, along with the graves of their family members. When you explore the cemetery, you'll realize that those buried here were significant figures of their time. This adds a meaningful aspect to the shipyard's historical significance.
The Ottoman Shipyard also features a small exhibition of around 10-15 watercolor paintings, making it an important artistic attraction to visit in Bodrum.
6. Nuriş Art House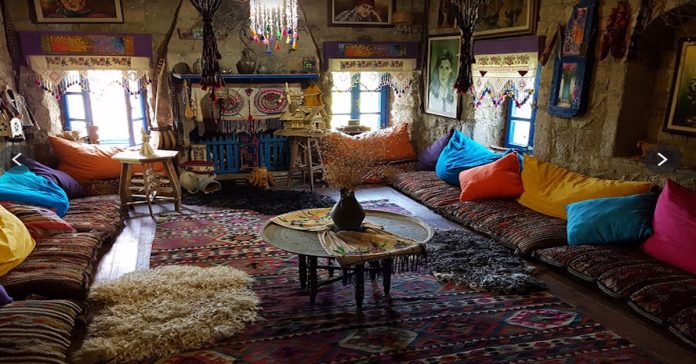 In the ancient village of Sandima, İsmail and Nurten Erkoca have turned their home into a special place for art lovers. This village has a history spanning 600 years, and their residence, known as the Nuriş Art House, is a true gem.
Apart from being their living space, the Nuriş Art House also acts as an art gallery. Inside, you can discover a variety of artworks, including wooden sculptures, intricate pencil drawings, and creative pieces crafted from various objects. It's a delightful spot for anyone who appreciates art.
-Streets, Squares, Walking Spots
7. Barlar Street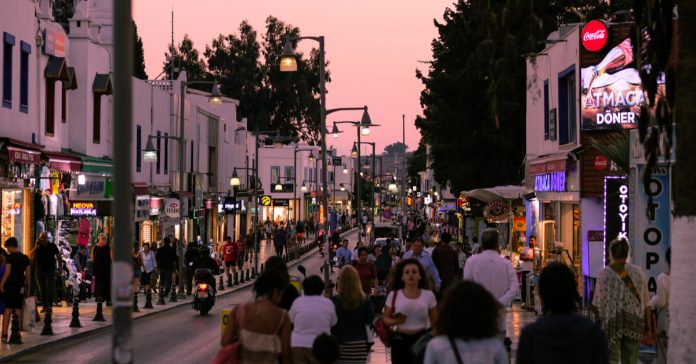 Barlar Street, or Gümbet Bar Street, in Gümbet District, is a hot spot for both locals and tourists. Here, you can have a great time, day or night, and it's a favorite haunt of celebrities. The street is lively, colorful, and packed with restaurants, cafes, street vendors, bars, nightclubs, and even venues featuring famous artists. As soon as you step onto Bar Street, you'll be swept up in the music and excitement, quickly finding yourself inside one of these vibrant places.
8. Bodrum Marina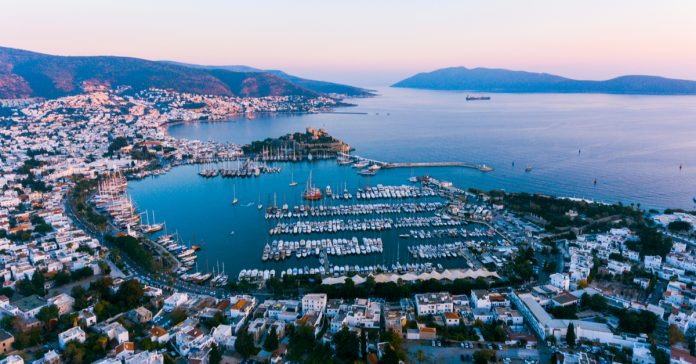 Bodrum Marina is a nice place to go for a leisurely walk, do some shopping, and have a good time. It's also a chance for visitors to check out some fancy yachts.
9. Leleg Yolu (Trail)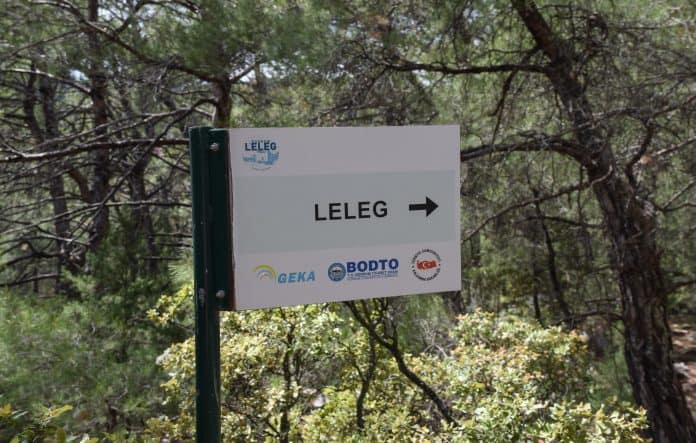 Leleg Yolu is a significant addition to Bodrum in recent times. The first section of the Leleg Trail, an important hiking route, was opened to the public in 2016. There are also paths for biking and places to camp along Leleg Road.
If you enjoy taking nature walks, Leleg Path has become one of Bodrum's popular walking routes in recent years. What makes this road even more interesting is its location in an ancient area.
10. Bodrum Bazaar
Bodrum Bazaar is a delightful spot for strolling and experiencing the best of Bodrum. This area is home to some of the town's most iconic landmarks like Bodrum Bath, Bodrum Maritime Museum, and Bodrum Castle. You'll also find a variety of shops selling different items, especially souvenirs, olive oils, jewelry, and rugs.
If you're looking to shop for souvenirs, Bodrum Bazaar is a must-visit place in Bodrum. Additionally, there are charming little cafes in Bodrum Bazaar where you can enjoy a delicious coffee and unwind after a day of exploring.
-Beaches
11. Bitez Beach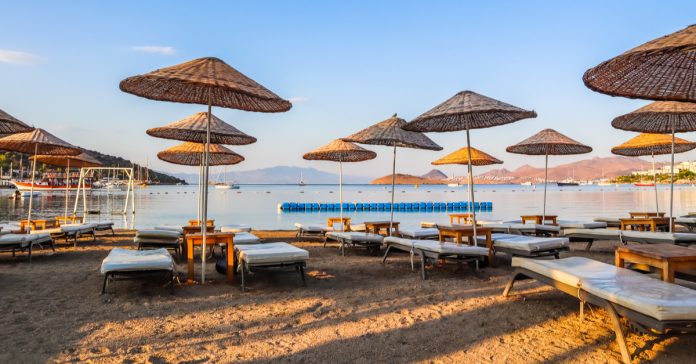 Bitez Beach is the longest beach in Bodrum and is incredibly popular. It's a place that will capture your heart with its crystal blue sea, lush green surroundings, and abundant fruit gardens. One fantastic thing about this beach is that the water is shallow, which is great news for families with kids.
You'll find plenty of activities to enjoy on this beach. Have you ever thought about trying surfing? Bitez Beach has surf schools where you can learn to surf in the sea. If that's not your thing, you can take leisurely walks, soak up the sun, or simply go for a swim.
And don't leave without trying Bitez's famous ice cream. It's a must-try treat before you head home!
12. Gunbatimi Beach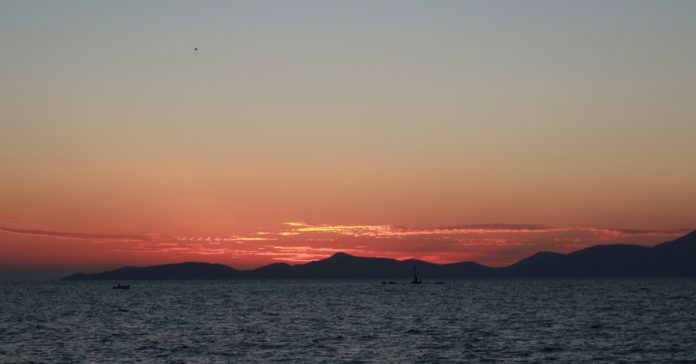 Gunbatimi Beach, found in Turgutreis, is famous for its stunning sunsets, which is why it got its name, meaning "sunset" in Turkish. It's a public beach with a Blue Flag rating, showing it's clean and safe, making it a top choice for visitors.
Getting to this beach is easy with public transportation, and once you're there, you'll find all you need. Whether you're craving a refreshing cocktail from the bar or a delicious meal at the restaurant, you'll have easy access to everything while enjoying the beautiful sea.
13. Yahsi Beach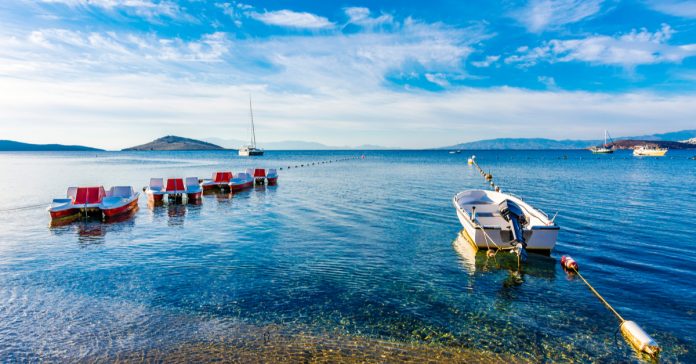 Yahşi Beach, also called Ortakent Public Beach, is situated about 15 km away from Bodrum's center. It's part of the Ortakent holiday resort, which combines Ortakent and Yahşi villages, offering a variety of beaches. Among these, Yahşi Beach stands out as the most well-known and frequently visited, boasting a blue flag for its excellent quality.
The beach not only features clean sands and crystal-clear, deep blue waters but also provides numerous activity options, making it a one-stop destination for beachgoers. You can engage in water sports like windsurfing and diving, and if you're new to these activities, there are instructors available for private lessons.
14. Gümüşlük Public Beach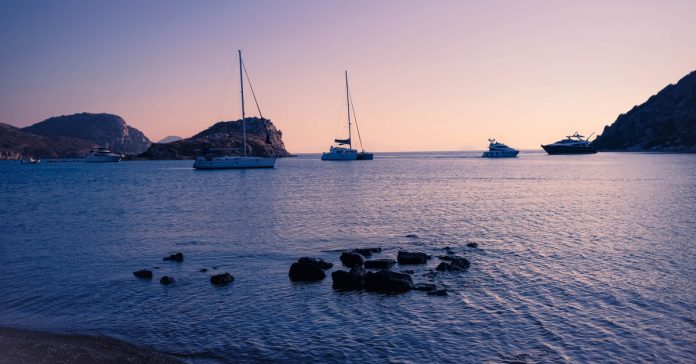 Gümüşlük, a charming Bodrum holiday destination, is located 22 km from the city center and boasts Gümüşlük Public Beach. Locally known as Çayıraltı Public Beach, this beach is a serene and peaceful spot and proudly flies the blue flag for its cleanliness and quality.
It's worth noting that this beach may not be the top choice for everyone due to its somewhat windy conditions and resulting waves. Nonetheless, its waters are consistently clean, and its proximity to Tavşan Adası' offers a stunning view.
15. Kumbahçe Beach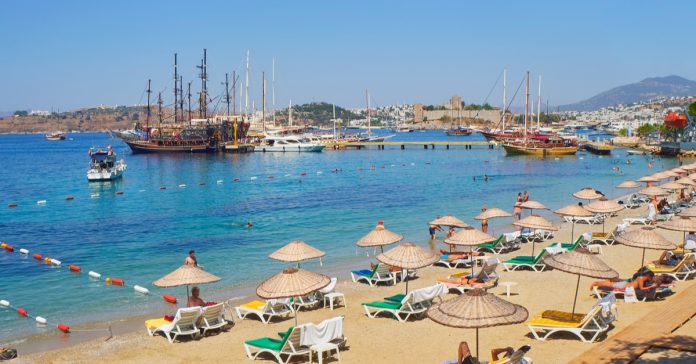 Kumbahçe Beach, situated across from Bodrum Castle, is a delightful spot to catch a beautiful sunset. Despite its name, it's important to note that this beach is covered in small stones rather than sand. Additionally, the presence of numerous boats, yachts, and marine vessels in the sea may make swimming less comfortable. However, don't let these factors discourage you! You can still enjoy a refreshing drink at the nearby establishments or take a pleasant stroll towards Bodrum Castle.
16. Sarnıç Beach Club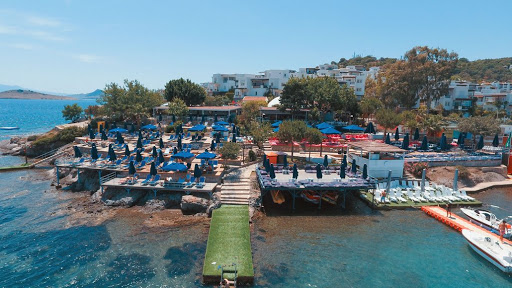 Sarnıç Beach Club, situated in Bitez, is renowned as one of the most popular and stunning beaches in Bodrum. This beach not only features a restaurant and bar but also provides a range of water sports activities. Whether you're interested in sea surfing, windsurfing, or simply taking a leisurely swim, you'll find it here!
17. Beyaz Beach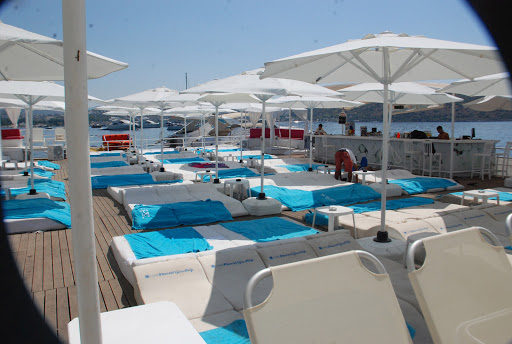 Beyaz Beach, situated in Bitez, is a beach that attracts both families and young people. Here, you can relax and soak up the sun on a sun lounger or cushion of your choice. The beach always has a lively atmosphere with music playing in the background, and when people hear their favorite songs, they often start dancing without hesitation.
18. Dalga Beach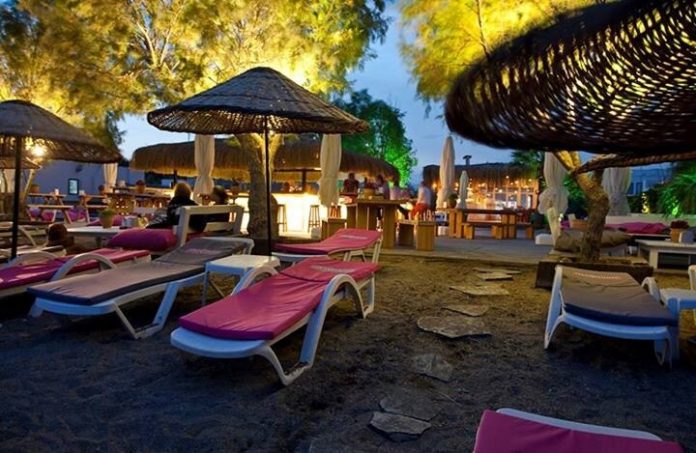 This is a beach where you can unwind and savor the sea without any entrance or sunbed-umbrella fees. You'll only need to pay for your food and drinks. The welcoming and genuine staff will leave a lasting impression, making you want to return time and again.
20. Gundogan Public Beach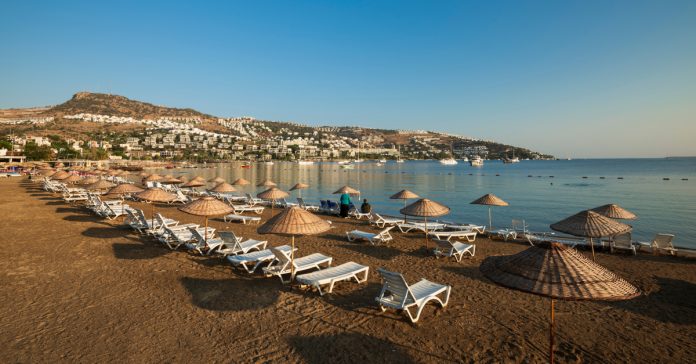 Gündoğan, a holiday spot in Bodrum, is about 18 km away from the city center. Gündoğan Public Beach, right here in this resort, proudly boasts a blue flag, providing a calm and peaceful getaway.
The tranquil, wave-free sea and soft sandy shores are truly captivating. And because it's not widely known, you can enjoy a quiet and restful vacation. Don't overlook the charming Bodrum houses and the beautiful natural scenery that surrounds this delightful place.
20. Karaincir Beach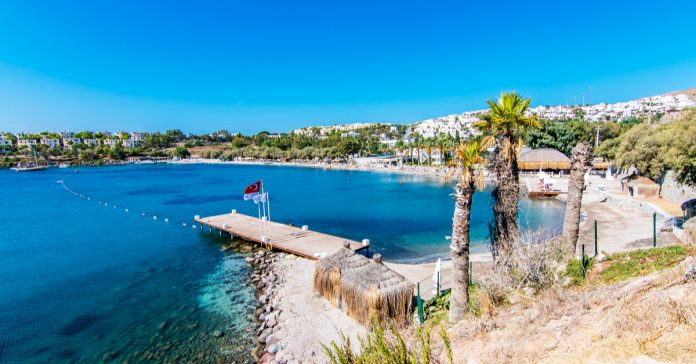 Karaincir Beach, found in Bodrum's Akyarlar town, is known for having the coldest water in the region. Even during the scorching heat of August, the water remains refreshingly chilly. While this may not suit everyone's taste, it's a feature that draws quite a few visitors.
The beach is surrounded by 14 small islands, regularly explored by archaeologists and divers. Its sandy shoreline is a major draw, as is the shallow sea, making it an ideal choice for families with children and non-swimmers. Being shielded from strong winds, it's also a popular spot for boat trips.
21. Mazikoy Beach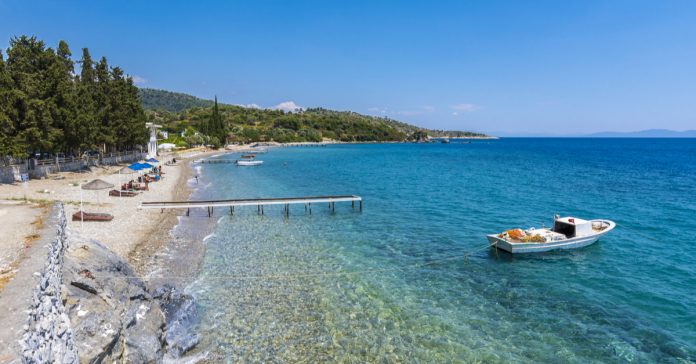 Mazı, a tranquil and unspoiled gem in Bodrum, boasts beautiful beaches and bays. Among them, Mazıköy Beach stands out like a hidden paradise. It's a spot where you can calm your mind with its serenity, soak up the sun by the sea, and discover true peace.
22. Camel Beach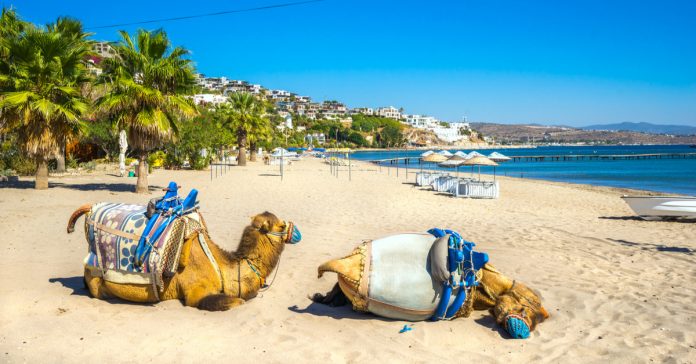 Camel Beach, formerly known as Kargı Bay, located in the west of Ortakent Yahşi region, has a very long coastline. It got its name because camels were found on the beach in the past, and camel wrestling festivals have been held constantly until today.
Camel Beach, one of the most beautiful beaches in Bodrum, is an indispensable beach for families with children because the sea is quite shallow! When you come to the beach, you can join camel tours, do water sports or sailing.
*Places to Visit in Nature
-National And National Parks
23. Şevket Sabancı Park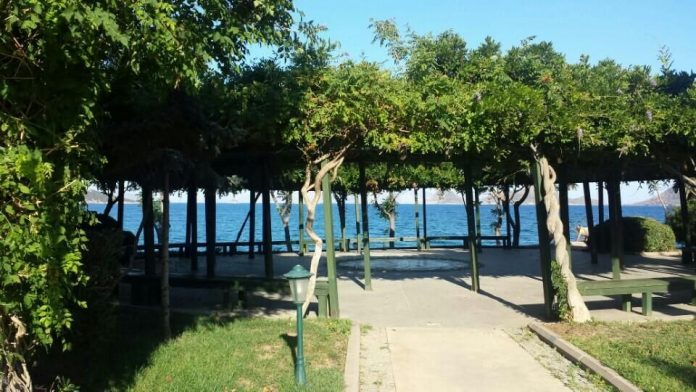 Sevket Sabancı Park, established in Turgutreis in 2003, offers a splendid setting with its lush nature and beach. If, by some chance, you tire of Bodrum's captivating sea, you can visit this park for a change of scenery.
Here, you can capture stunning sunset photos and have a delightful time with your loved ones. The park is designed with cafes, amphitheaters, and walking paths, guaranteeing an enjoyable visit. Don't miss out on Mavi Park Restaurant, located at the park's upper entrance, which is renowned and beloved for its delicious menus.
24. Usuluk Bay Nature Park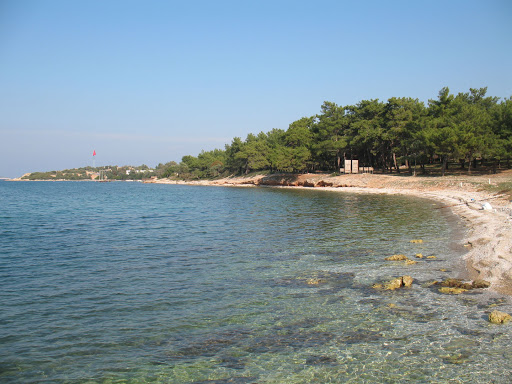 Usuluk Bay Nature Park is a serene escape from the hustle and bustle of the city, offering a respite from stress. The park is enveloped by a variety of trees and captivates visitors with its unspoiled beach and deep blue sea.
If you're seeking a tranquil and calm environment, you've come to the right place. This aspect is a major draw for many visitors. It's a peaceful haven, blessed with favorable weather and natural beauty, and it's a place that people always yearn for and miss.
25. Bodrum Tuzla Bird Sanctuary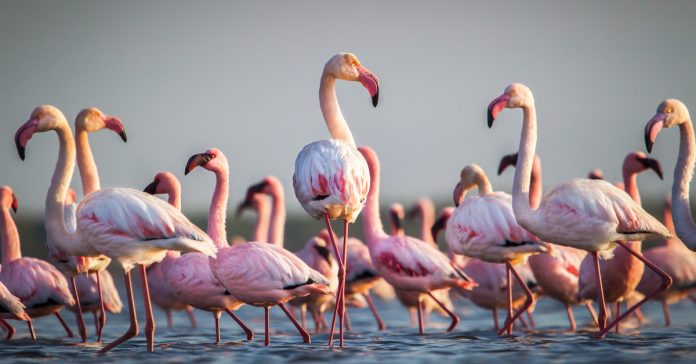 Bodrum Tuzla Bird Sanctuary, situated 25 km from the city center, is home to 125 diverse bird species. When you visit this sanctuary, you'll have the opportunity to observe various birds up close, including cranes, mekes, wild geese, and many others. Among these birds, flamingos steal the spotlight, and rightly so.
For the best experience, we recommend visiting in March and April. During these months, it's the breeding season for birds, and you can witness their migration and mating rituals. It's a truly enjoyable experience, especially for photography enthusiasts and animal lovers.
-Bays
26. Paradise Bay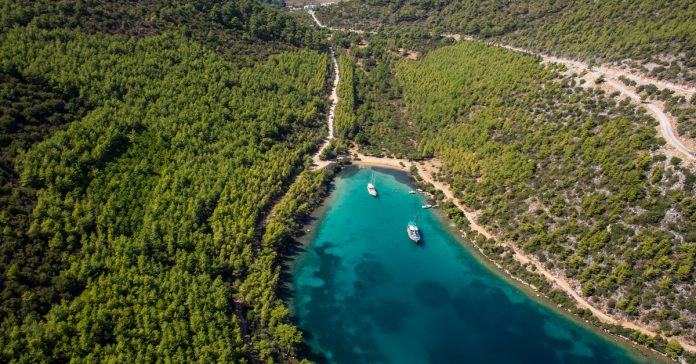 Where is this? Located 20 km away from the center of Bodrum, Cennet Bay is a bay true to its name… The bay, which is the number one stopover point of the blue voyage, is one of the most beautiful bays of Bodrum. Its turquoise color sea is crystal clear and its nature is lush green, which is an invaluable feature.
There is also a camping area called Cennet Camp located in the bay and you can find the opportunity to camp as you wish. However, it should be noted that it is forbidden to set up a tent or light a fire anywhere outside this area!
27. Torba Bay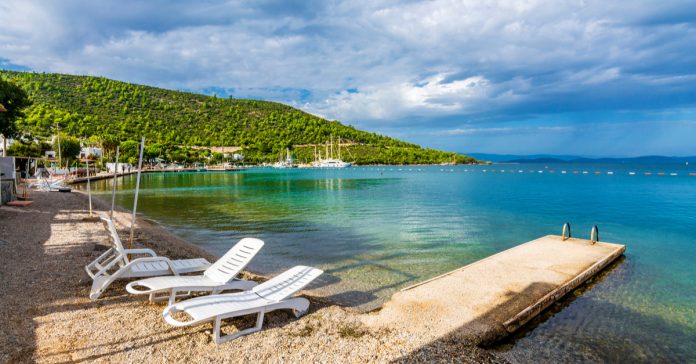 Almost every beach and bay in Bodrum boasts a blue flag, but Torba Bay truly shines with its impressive 7 blue flag awards. Located just 5 km from Bodrum, this bay is a gem with its breathtaking scenery and stunning natural surroundings.
Here, you can soak up the sun and swim on the pristine beach while being serenaded by the melodies of birds. The tranquility and silence will bring you peace, and you might even find yourself finishing several books without even realizing it. Plus, the businesses in the bay provide everything you need, ensuring you have an enjoyable holiday.
28. Gerenkuyu Bay
You can have a fantastic day at Gerenkuyu Bay, just 15 km from Bodrum city center. All you need is to get the essentials and embrace the beauty of nature!
The beach here is spacious, the sea is crystal clear, and its refreshing coolness provides relief even on the hottest days. As you stroll along the coastline, you'll notice people setting up tents and enjoying barbecues all around. So, don't forget to bring your gear for a memorable day out.
29. Bardakci Bay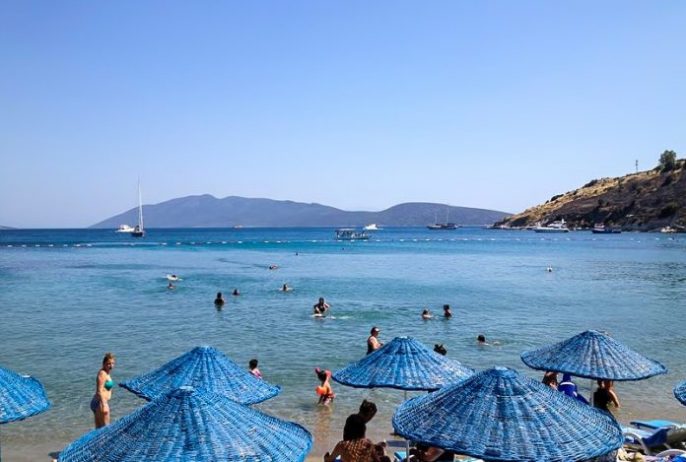 Bardakçı Bay, located very close to Bodrum city center, is just a 10-15 minute walk away. This small bay doesn't have a public beach, so you can opt for one of the hotel or business beaches.
You can enjoy water sports like surfing and diving, or try exciting activities like paragliding. There are also great restaurants nearby where you can savor delicious food, or you can extend your stay by choosing from various accommodation options.
30. Aspat Bay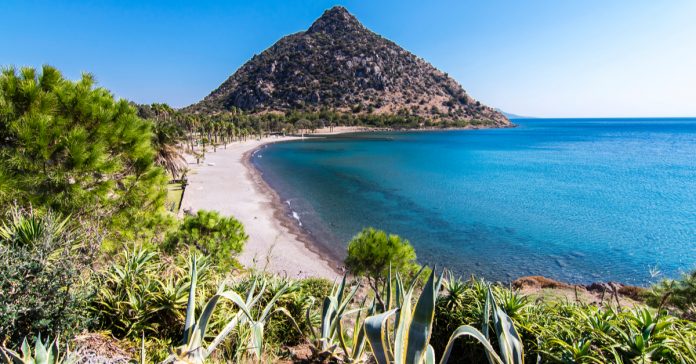 Aspat Bay, nestled between Akyarlar and Ortakent Yahşi towns, boasts incredible natural beauty. It's surrounded by lush greenery, thanks to numerous water sources, rivers, mountains, and the sea.
This protected natural gem offers tranquility, sandy beaches, and stunning views. It's a place where you can truly appreciate nature's beauty. You can also make the most of your day by enjoying water sports and immersing yourself in the serene environment.
31. Bodrum Aquarium Bay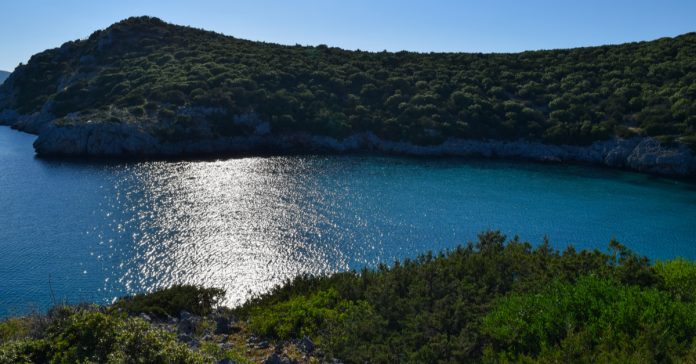 Bodrum Aquarium Bay, also called Adaboğazı, sits between Bitez and Gümbet, and it's a natural wonder. People gave it this name because its vibrant sea and the creatures within it resemble an aquarium.
This bay, frequented by many boats, is divided into various small bays. For instance, the small inlet next to the bay is known as Little Aquarium Bay, and the area right across the bay is referred to as Inner Island. You'll be fascinated by the diverse marine life in every part of this bay and the boat tours that frequently explore its beauty.
32. Kissebükü Koyu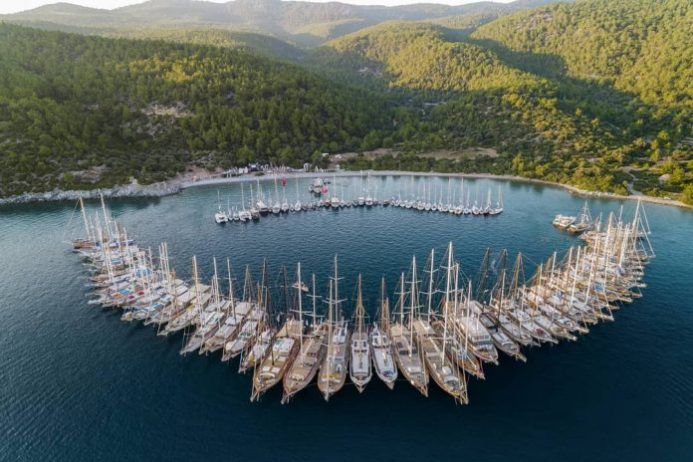 Kissebükü Bay is a quiet, undiscovered spot, usually frequented by boat tours and enjoyed by just a few. It's a small and peaceful bay known for its serenity. What makes it special is that there are no hotels, restaurants, or cafes nearby, allowing you to fully connect with nature.
-Islands
33. Orak Island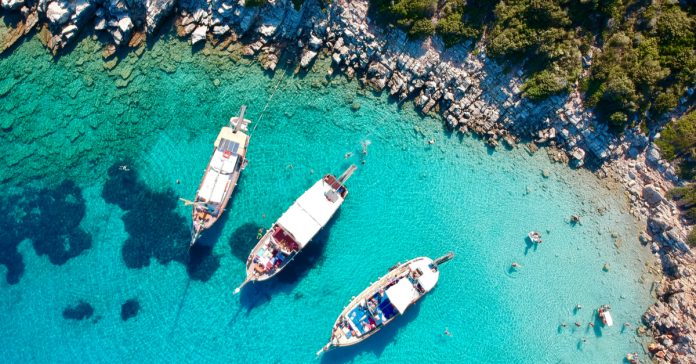 You can get to Orak Island, a top diving spot, in about 1-2 hours by boat. They organize boat trips to this island regularly. It's named after its shape, which looks like a sickle. Both experienced divers and diving enthusiasts visit this place. There's also a hidden bay on the island's south side that's worth discovering. It's a truly beautiful island with its untouched nature and crystal-clear turquoise sea.
34. Tavşan Island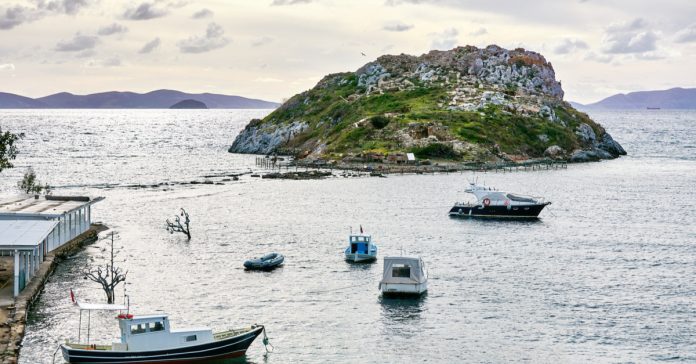 Tavşan Island, located between the two shores of Gümüşlük, is within walking distance. The island is named after the many rabbits that inhabit it. You'll be amazed by the sunset and the island's natural beauty, which you can reach by passing through a historic ruin. It's a place you'll want to revisit.
35. Karaada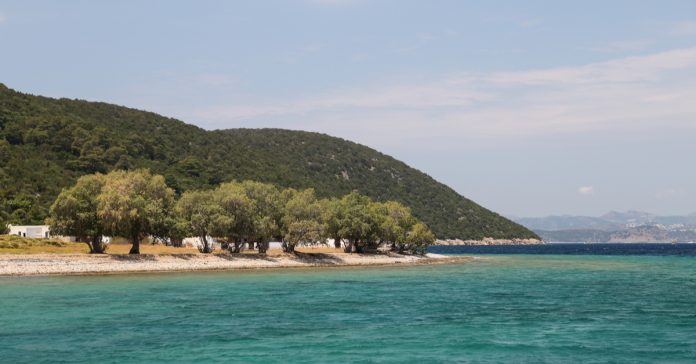 This island is a green paradise filled with pine trees. It's the biggest island on the Bodrum Peninsula and a regular stop for boat trips. The island has many attractions, but let's highlight a few. There's a cave where boats dock, and inside, there's hot water and therapeutic mud. Tourists love applying this mud for fun and taking photos because it's believed to be good for the skin.
There are even bays and beaches at the back of the island.
36. Kos Island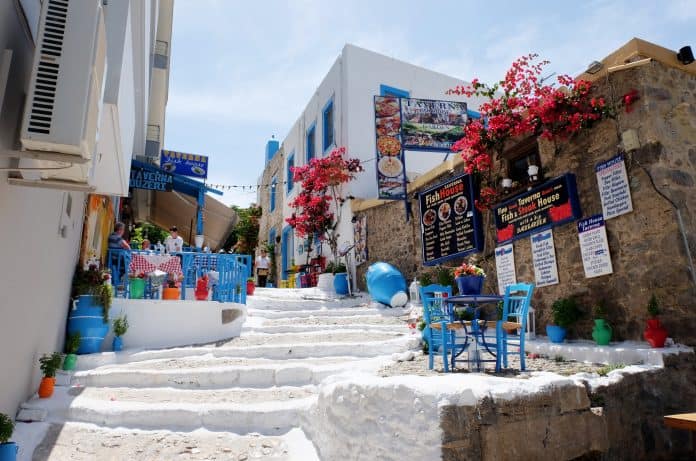 Kos Island is a must-visit spot in Bodrum, just a 50-minute ferry ride away. But remember, it's part of Greece, so you'll need a Schengen Visa or gate visa to go there. Kos Island is about 8 miles from Bodrum and has a population of over 60,000, making it a lively and fun place to explore.
*Places Suitable for Children
-Aqua Parks
37. Bodrum Aquapark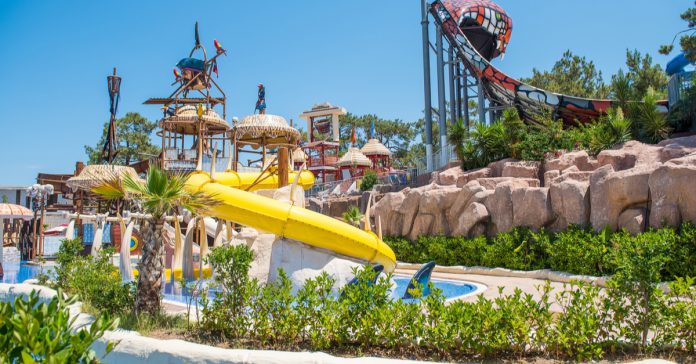 Bodrum Aquapark, previously known as Dedeman Aquapark, is Bodrum's first and largest water park. It's a fantastic place for family fun during your trip. The park has something for everyone, whether you're 7 or 70, including water slides, pools, kids' playgrounds, restaurants, and bars.
But that's not all at Bodrum Aquapark! They also offer a variety of events and entertainment options. You can join in or simply watch live DJ performances, dance and animation shows, and even enjoy foam parties. For some added excitement, you can even try rafting in inflatable boats!
38. Pirates Inn Cactus Aquapark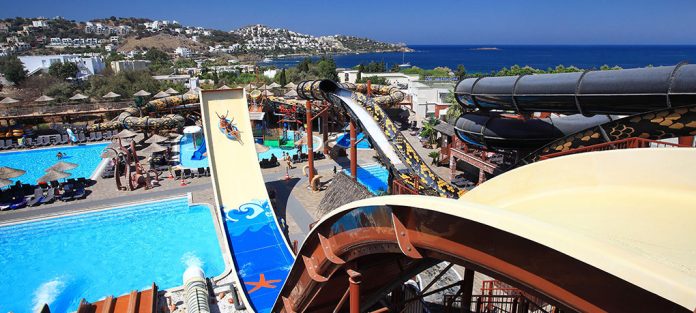 Pirates Inn Cactus Aquapark in Yalıkavak, Bodrum, is a great place for family fun. It's an exciting water park where you and your kids can have a great time.
At Pirates Inn Cactus Aquapark, there's a special pool for kids to play in, a regular swimming pool, fun pool games, aerobics, and nine thrilling water slides. They also have entertaining animations and competitions to keep everyone engaged. You can join in the activities with your kids or just unwind on the sun terraces, whatever you prefer!
-Theme Parks
39. Fun Town Yahsi Park
Fun Town Yahşi Park, located on the Ortakent Yahşi road, is a spacious outdoor entertainment center. This park is designed for both kids and adults, offering a wide range of activities. You'll find various fun zones including go-kart racing, paintball, darts, billiards, foosball, a shooting range, a playground for children, an RC car track, and table tennis. Plus, there's a cozy cafe-restaurant where you can grab a bite or enjoy a refreshing drink while your kids have a blast. Another great feature is that they host events and even live music concerts for added entertainment.
*Tourism and Holiday Places Near Bodrum
-Holiday Towns
40. Bitez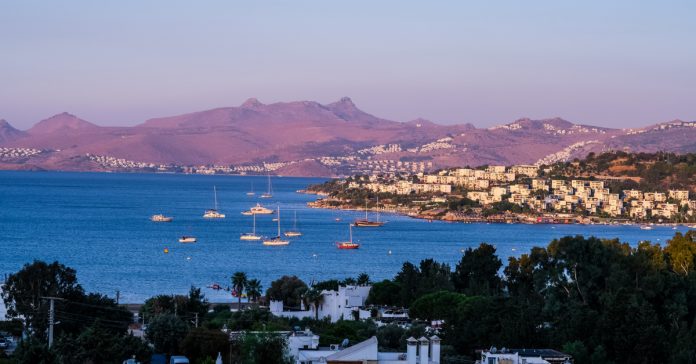 Bitez, a lush area in Bodrum, has been gaining popularity lately. People flock to this region for its stunning bay, excellent surfing conditions, and the surrounding citrus and olive groves. Moreover, Bitez offers a wide range of activities for a comfortable and enjoyable stay. You can try surfing, other water sports, take a bike ride, or go on a boat tour during your visit.
41. Göltürkbükü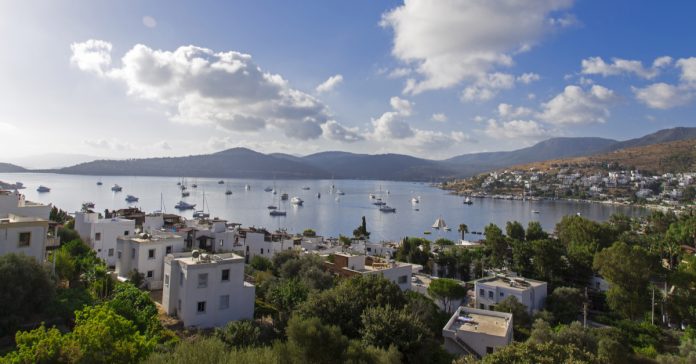 Surrounded by tangerine gardens, Göltürkbükü, formerly known as Gölköy, is located 23 km away from Bodrum. This charming town, created by merging Gölköy and Türkbükü, is a hidden gem known for its refreshing air, pristine waters, and natural beauty. You can enjoy leisurely walks along its bustling streets, relax on the beach, and engage in various water sports activities during the day.
Göltürkbükü comes to life during the day with venues featuring DJs and celebrities hosting beach parties. At night, it transforms into a lively hub with plenty of entertainment options that can keep you having fun until the early hours of the morning. Be sure to set aside some time to experience the vibrant atmosphere of this popular destination day and night.
42. Yalikavak
When it comes to savoring seafood in Bodrum, Yalıkavak is the go-to spot. Yalıkavak is known for its easy accessibility and its commitment to providing visitors with a fantastic time. Over the years, Yalıkavak has gained popularity due to its numerous beaches and entertainment options.
As you stroll along tree-lined paths, you'll be greeted by the iconic Windmills, which are a symbol of Yalıkavak. Additionally, Yalıkavak Marina stands out as a prominent destination offering upscale restaurants, shops, and exciting entertainment venues. We highly recommend paying a visit to this place during your vacation to relish fresh seafood and enhance your holiday experience.
43. Gumusluk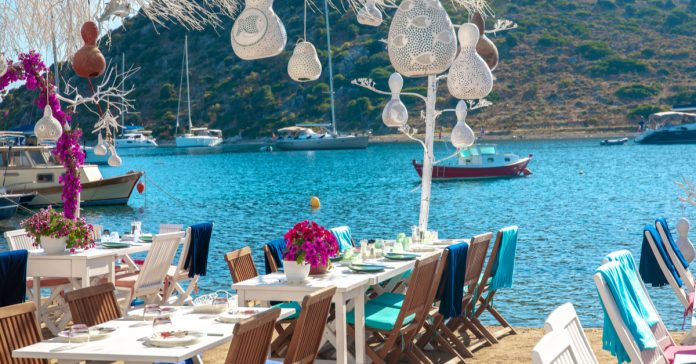 Gumusluk, named after the beautiful gray hues in the sea during sunset, is a truly stunning location known for its ancient history, and natural wonders. This place is a must-visit in Bodrum, with its charming restaurants and souvenir stores lining the streets.
You can relax at bohemian-style restaurants, enjoy the mesmerizing sunset, and have a delightful time. If you're looking to unwind, share romantic moments, and find inner peace, sitting at one of the seaside spots is an absolute must.
44. ​​Gundogan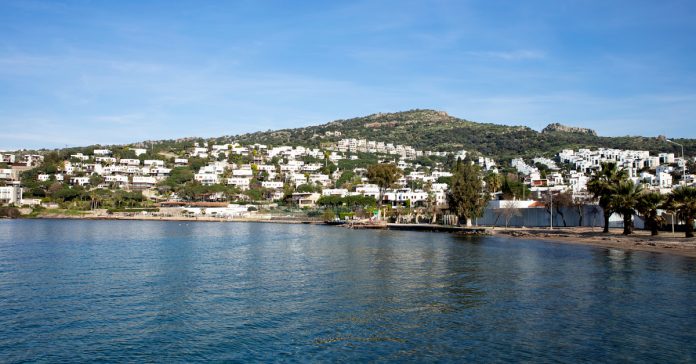 Gündoğan, a charming fishing village, sits 25 km from the heart of Bodrum. Its special charm lies in the quaint houses and gardens adorned with fruit trees.
Whether you're seeking a serene escape, looking for handmade crafts, or hoping to indulge in water sports in the windy sea, Gündoğan is an excellent choice. It's a place where you can relax, shop for unique items, and have an enjoyable water sports adventure.
45. Gumbet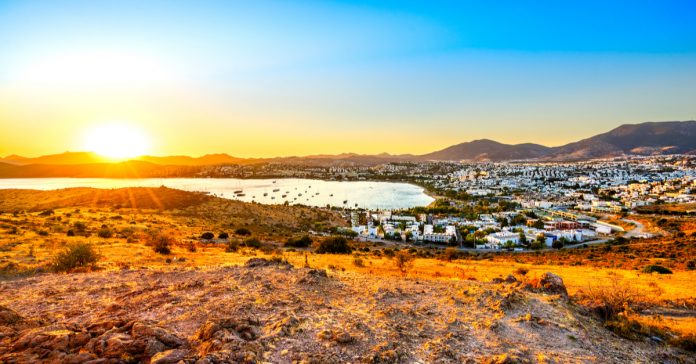 Gumbet, just 3 km from Bodrum, is renowned for its vibrant nightlife centered around Bar Street. During the summer season, Bar Street is always bustling with millions of visitors, and it's the ultimate destination for entertainment.
You can make the most of your day with sun, sand, and sea, and then dive into the exciting nightlife when the sun sets. It's a place where you can have the best of both worlds!
46. Torba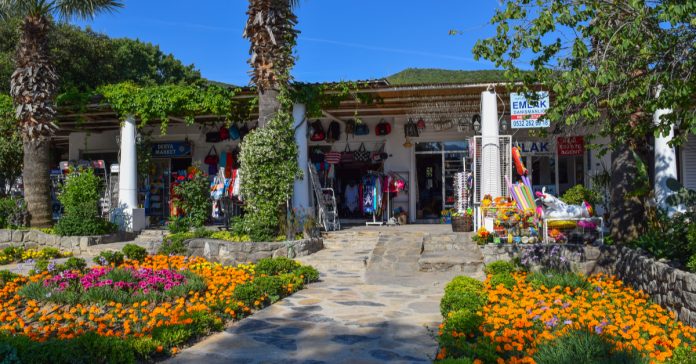 Torba is a top choice for holiday enthusiasts in Bodrum, known for its tranquil ambiance, even in windy conditions. Located just 6 km from Bodrum center, Torba boasts stunning blue waters, lush green surroundings, and a sense of peace. The area offers numerous luxury hotels, making it a haven for those seeking a village-style holiday experience.
47. Akyarlar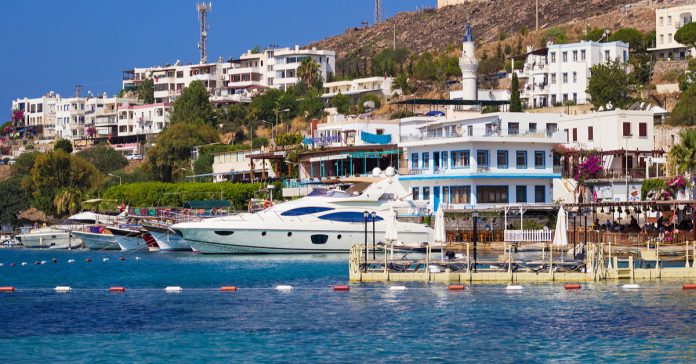 Akyarlar is a fantastic destination in Bodrum, especially for surf enthusiasts. With its constant winds, it's an ideal spot for surfing. Plus, it offers breathtaking views of Greece's Kos Island. Akyarlar's natural beauty makes it a perfect choice for a summer getaway, where you can immerse yourself in serene surroundings.
48. Bargilya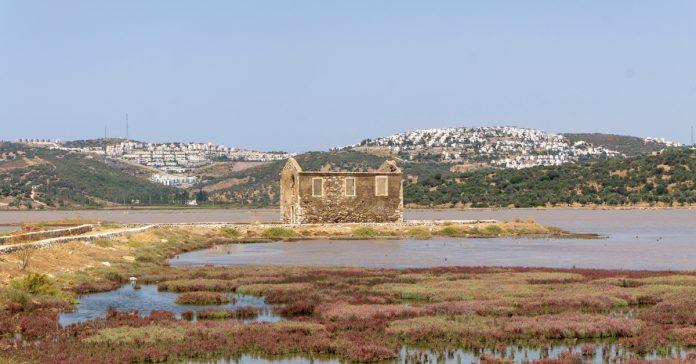 Bargilya, a quaint fishing village, is a hidden gem that combines natural beauty with ancient history. Its warm and welcoming atmosphere, along with friendly businesses, adds to its charm. As you explore the area, you'll encounter ancient ruins that offer a glimpse into its historical past. If you're seeking a peaceful retreat away from the bustling crowds of Bodrum, Bargilya is the perfect place to reconnect with nature and find inner peace.
49. Güvercinlik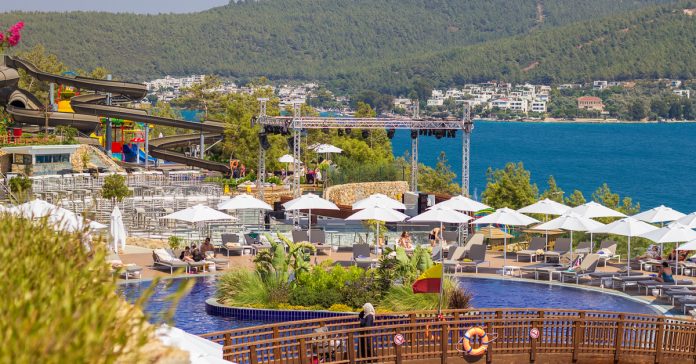 Güvercinlik, a cozy neighborhood just 15 km from Bodrum, offers a simple yet delightful experience. While it may be small, the beauty of Güvercinlik lies in its tranquility. Here, you can take leisurely walks along the beach and treat yourself to a delicious raki and fish meal at a local restaurant. It's the perfect spot for a laid-back getaway.
50. Mumcular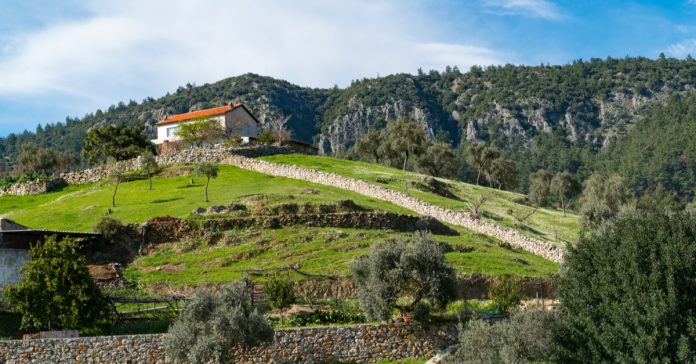 Mumcular, situated 30 km from Bodrum, is a haven of natural beauty. This peaceful place offers a quiet escape from the crowds. Surrounded by olive groves, you'll find plenty of olive trees to admire, and you can even taste some delicious olives or olive oil. Plus, a visit to Mumcular Dam Lake offers a chance to enjoy a scenic walk with stunning views.
51. Ortakent Yahsi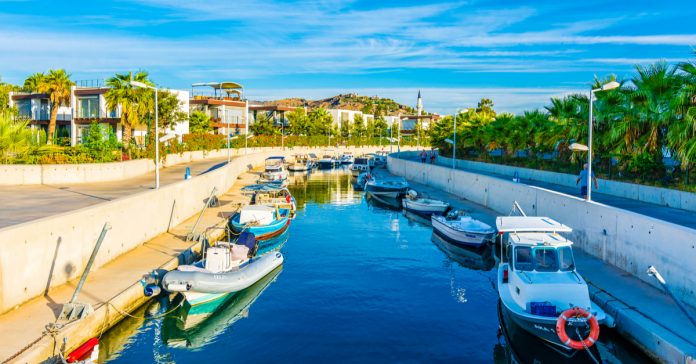 Ortakent Yahsi, a fusion of two villages, sits just 15 km from Bodrum. It's a hotspot for both local and international tourists, drawing visitors with its charming stone houses, beautiful beaches, and picturesque bays that you'll love exploring on a leisurely walk.
-Villages
52. Kızılağaç – Yalıçiftlik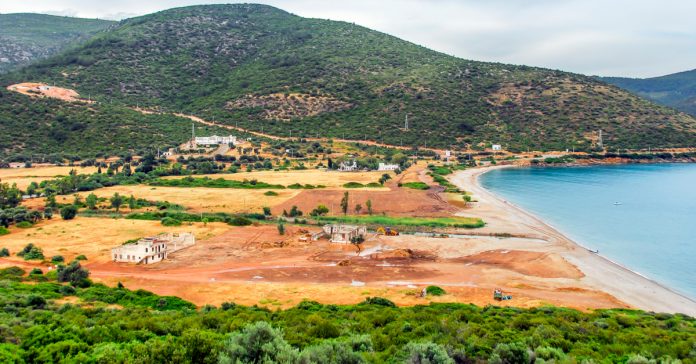 Kızılağaç – Yalıçiftlik, a charming village near Bodrum, is nestled amidst pine trees. The sight of various fruits and different types of trees growing together will transport you to the past and make you appreciate the natural beauty here.
53. Sandima Village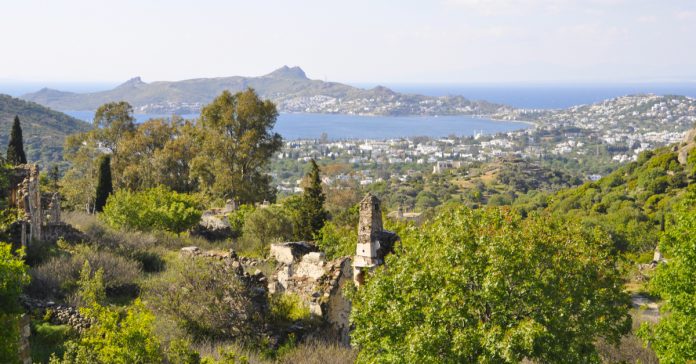 Sandima Village, a tranquil Turkmen village steeped in 600 years of history, is renowned for its deserted stone houses. The village was once inhabited, but its residents gradually moved towards the Yalıkavak coast about half a century ago. Presently, the village is home to an artist couple.
Sandima Village is an extraordinary attraction in Bodrum. You can visit to admire the artistic creations of the painter couple and capture captivating photographs amidst the abandoned stone houses.
54. Mazikoy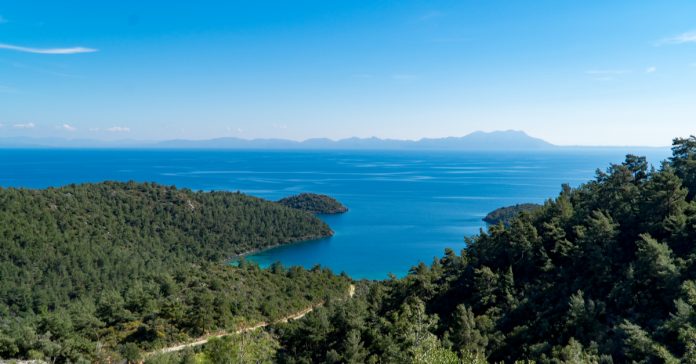 Mazıköy, an unspoiled gem, promises to leave a lasting impression on you. It's the perfect destination for finding inner peace in a tranquil atmosphere, basking in the sun, and escaping from the hustle and bustle of everyday life. It's the kind of place you seek when you want solitude, and sometimes it's hard to come by!
Mazıköy boasts eight delightful bays that will captivate you with their natural beauty, offering a profoundly peaceful vacation. You'll also be pleasantly surprised by the accommodation choices and delightful dining options. Mazıköy is a must-visit during your Bodrum journey, an oasis of serenity and tranquility!
55. Karakaya Village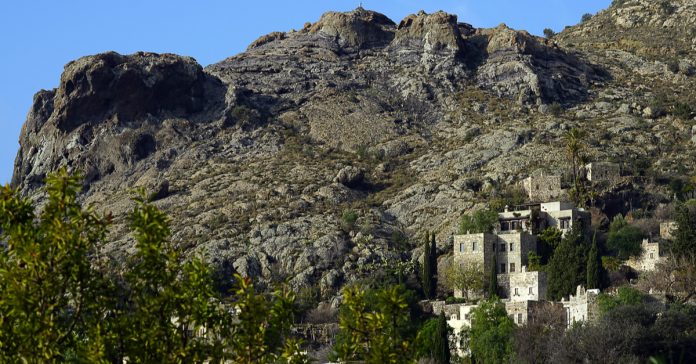 Karakaya Village, situated in Gümüşlük town, boasts a rich 800-year history. This village, strategically built on rocky terrain centuries ago to ward off pirate raids, is home to 35 households. While it may appear like an abandoned stone village, its history and breathtaking views will leave you in awe. Additionally, occasional events are hosted at a spot known as Teldolap within the village, offering some of the most stunning vistas you'll encounter.
---