Abu Dhabi is the capital of the United Arab Emirates. While it may not have the same touristy reputation as Dubai, it's a big, authentic, and growing city that welcomes over ten million visitors each year. It's continually expanding its tourist facilities and attractions. To have a pleasant stay, it's best to avoid the hottest times of the year and choose the right place to stay. In this guide, you'll find all the information you need to pick the best places to stay in Abu Dhabi. I'll introduce you to areas that are great because of their location or affordable hotel options. You'll also find some examples of hotels that have been enjoyed by many travelers.
Best places to stay in Abu Dhabi:
How to choose where to sleep in Abu Dhabi?
Abu Dhabi is a vast city with lots to explore, and it's quite spread out. The neighborhoods I'll introduce you to in this post all have one thing in common: they're well-placed. Some are near the city center and major shopping areas, while others are closer to entertainment or the airport. This can be a helpful starting point when deciding where to stay.
Keep in mind that some neighborhoods are more upscale than others, so your budget matters. It's also a good idea to book your hotel in advance, regardless of when you plan to visit Abu Dhabi.
Ultimately, choose a neighborhood that matches the atmosphere you're looking for and provides easy access to the attractions that interest you. Abu Dhabi offers a wide range of high-quality hotels, so you should be able to have a great stay in many establishments located in the city's best areas, which I'll describe in the following sections.
Table of Contents
Al Khalidiya
Al Khalidiya is a very central district of Abu Dhabi, very popular with tourists, but also with European expatriates.
If you like shopping, you will be in the right place, since here you can find several shopping centers and a large number of shops. There are also many very pleasant green spaces, such as Al Khalidiya Park, where it is possible to enjoy a little shade, which is always very pleasant in Abu Dhabi.
Al Khalidiya is also one of the best areas where you can settle in Abu Dhabi if you want to spend a  lively evening or two during your stay. Abu Dhabi is really not the party destination par excellence, but the bars of the hotels located in this area are among the rare exceptions.
Where to sleep in Al Khalidiya?
Courtyard by Marriott World Trade Center is a hotel complex in the heart of the city, with a swimming pool, a gym, and a restaurant, which is close to Etihad Square, the Corniche, and the souk. Its beautiful rooms for two are accessible from around €85 per night.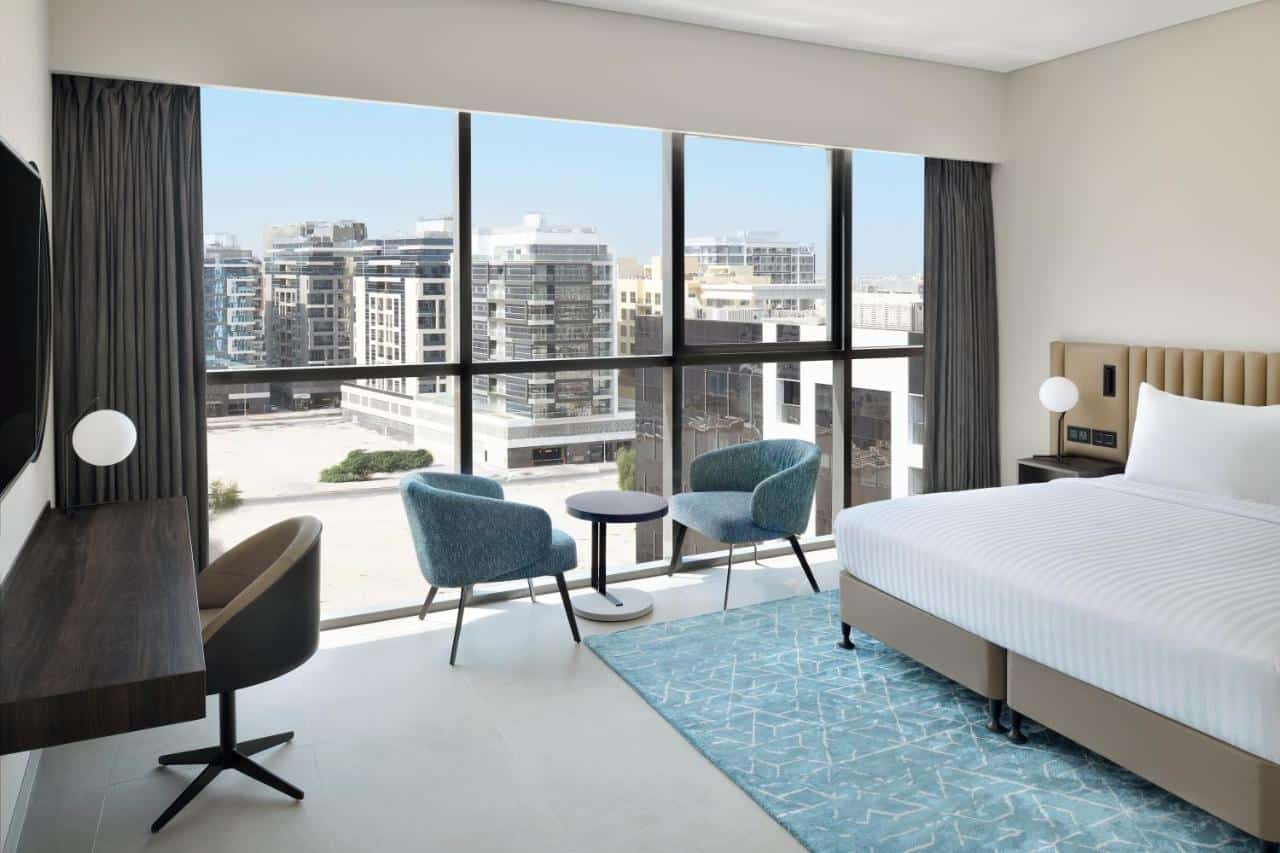 Al Zahiyah
Here is a neighborhood in downtown Abu Dhabi that enjoys a prime location and is one of the liveliest in the city. Al Zahiyah was known as the "Tourist Club Area", after an artificial beach was built there in the 1970s. Although this beach is no longer present, this name pretty much sums up what it is still Today.
It is a large district focused on leisure and entertainment , which is home to a very wide variety of restaurants of all kinds and which offer culinary specialties from the United Arab Emirates, but also from many other countries from all continents.
As far as accommodation is concerned, the offer is vast and diversified in this district, and you can quite easily find particularly welcoming hotels there.
It is also in this very lively district that you can discover the Abu Dhabi Mall , often considered the real heart of the city, a huge shopping complex that brings together a lot of brands from all over the world.
Where to sleep in Abu Dhabi in the Al Zahiyah district?
Al Diar Dana Hotel is perfectly located near the beach, bars and restaurants in the tourist area of ​​Al Zahiyah. It is equipped with a spa, a fitness centre, a bar and a restaurant. Its rooms are spacious, with comfortable bedding. Count around 80 € to spend a night there in a room for two.
Beach Rotana is a 5-star resort with direct access to the beach and Abu Dhabi Mall. It has a pleasant flower garden, a swimming pool, tennis courts, a gym, a bar and a popular restaurant. You can find double rooms there from around €150 per night.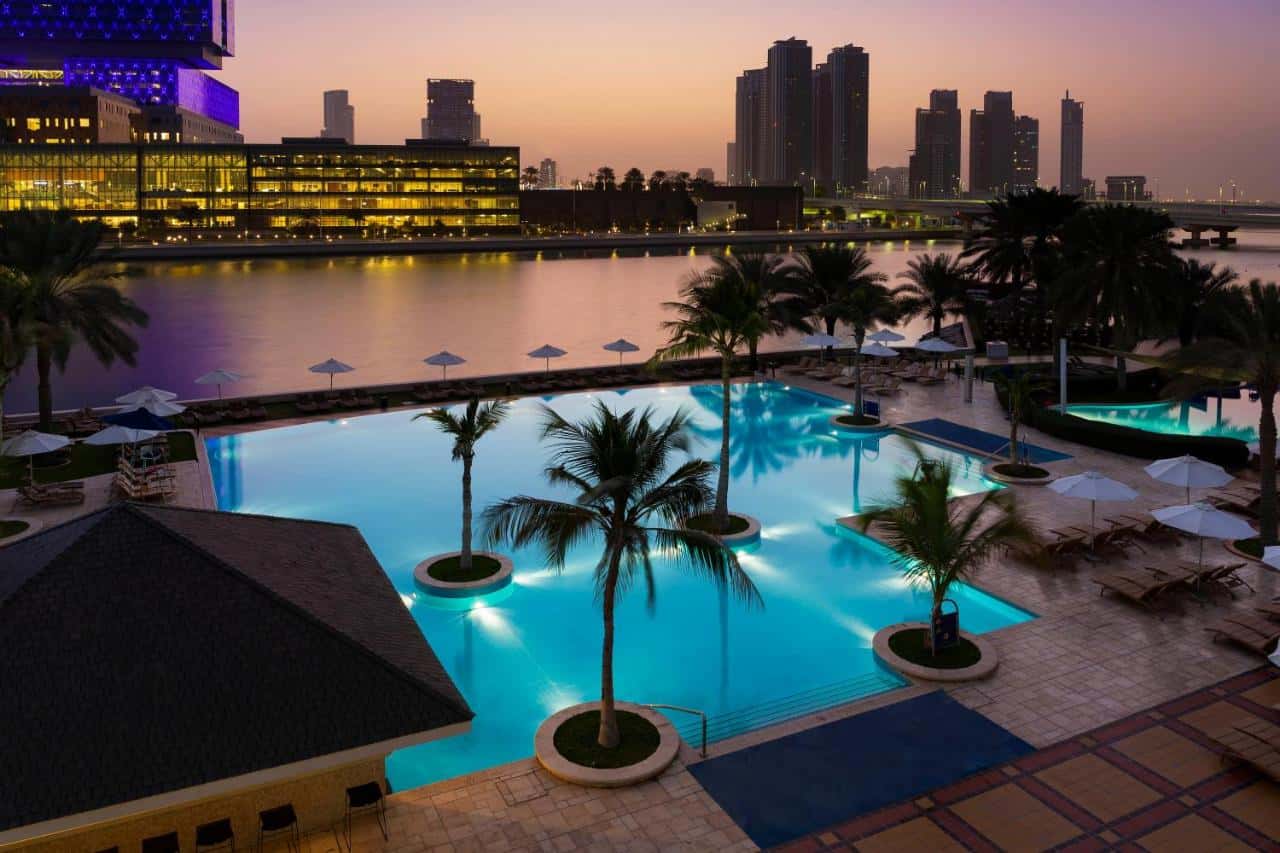 The Corniche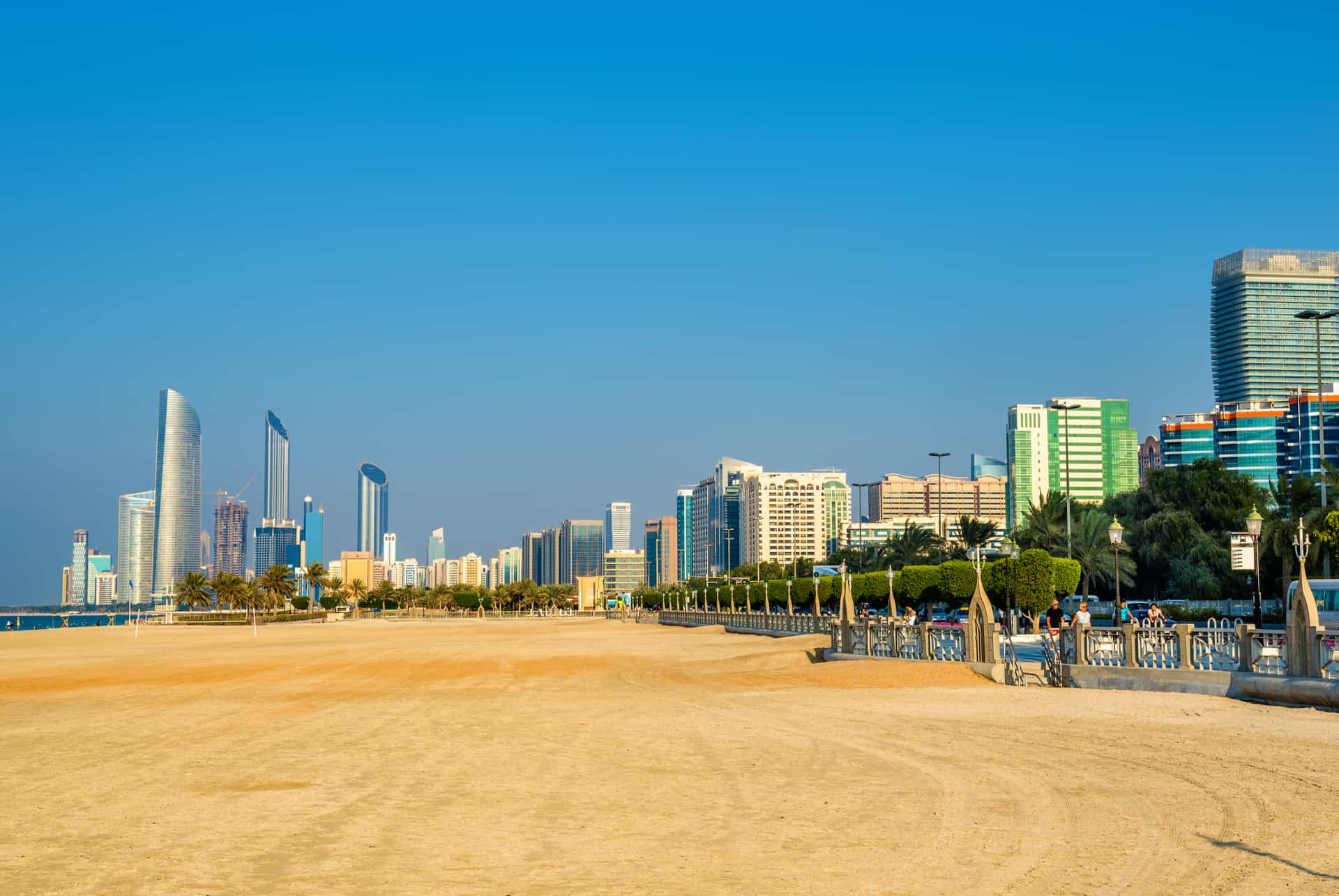 The Corniche district (Al Markaziyah) runs along Abu Dhabi's main beach. It is one of the must-see places in the city. On this walk, you can enjoy great views of the Arabian Gulf and the city's skyscrapers.
Corniche Beach is a long, particularly well-maintained white sand beach, where you can enjoy a pleasant swim in the turquoise water. On the large central esplanade of the district are many very pleasant restaurants and cafes, and you can also find several pretty gardens and parks, some of which have play areas for children.
The Corniche is also close to the island of Al-Marina and the Marina Mall , one of the city's large shopping centers, which includes more than 400 stores of all kinds and many other attractions (cinemas, bowling, ski slope , panoramic restaurants…).
Like everywhere in the city, hotels here are not cheap, but you can find slightly less upscale establishments, which often offer good value for money for sleeping in Abu Dhabi.
Where to sleep near the Corniche?
Ramada Abu Dhabi Corniche  is a charming hotel located a few steps from the Corniche, just a ten-minute walk from the shopping center. It has, among other things, a swimming pool, a spa, and a restaurant that serves local and international specialties. Its rooms for two are accessible from around  €70 per night.
Le Royal Meridien Abu Dhabi is a 5-star hotel that offers a superb panoramic view of the Arabian Gulf. In particular, you can find two swimming pools, a very nice gym, a bar and a panoramic restaurant. The reception is at the top and the rooms are spacious and comfortable. You will have to pay around €140 to spend a night in a room for two.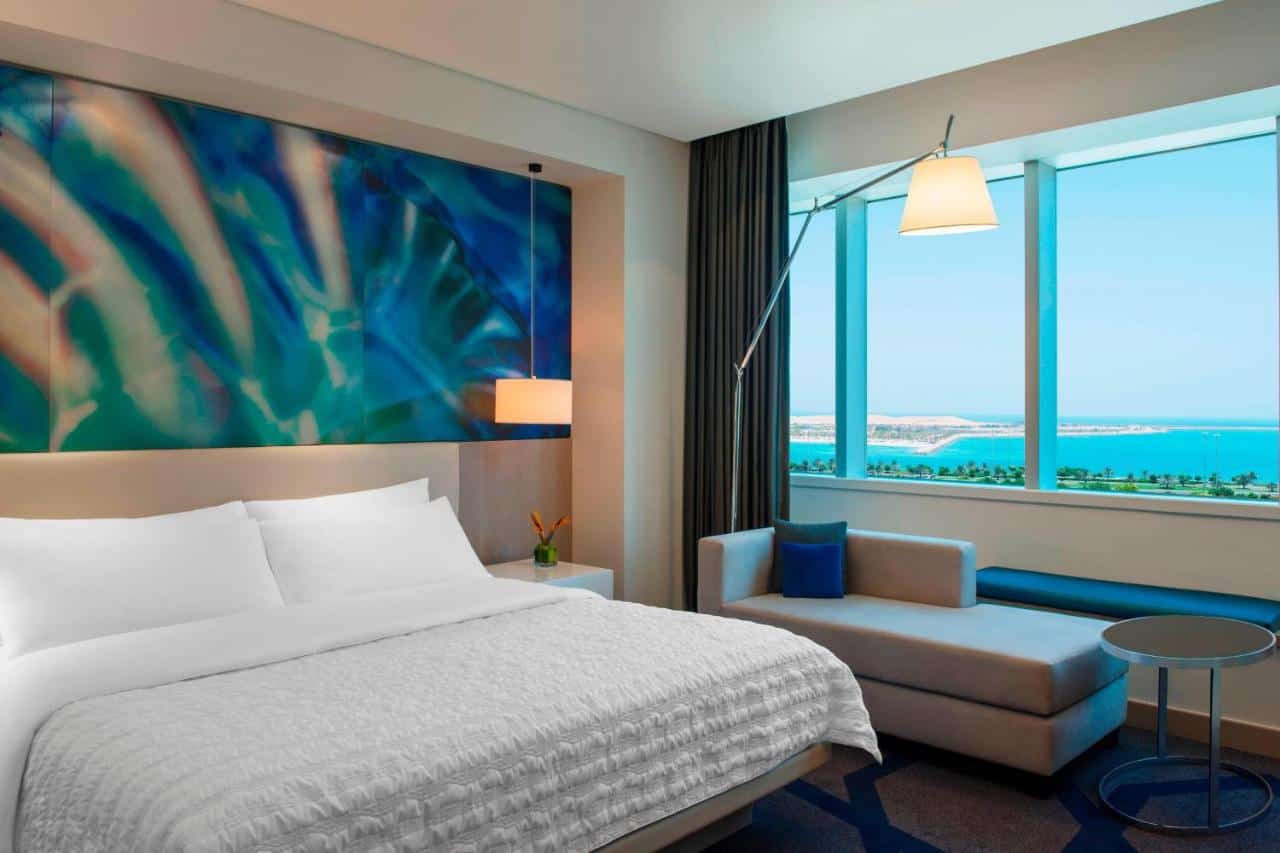 Khor Al Maqta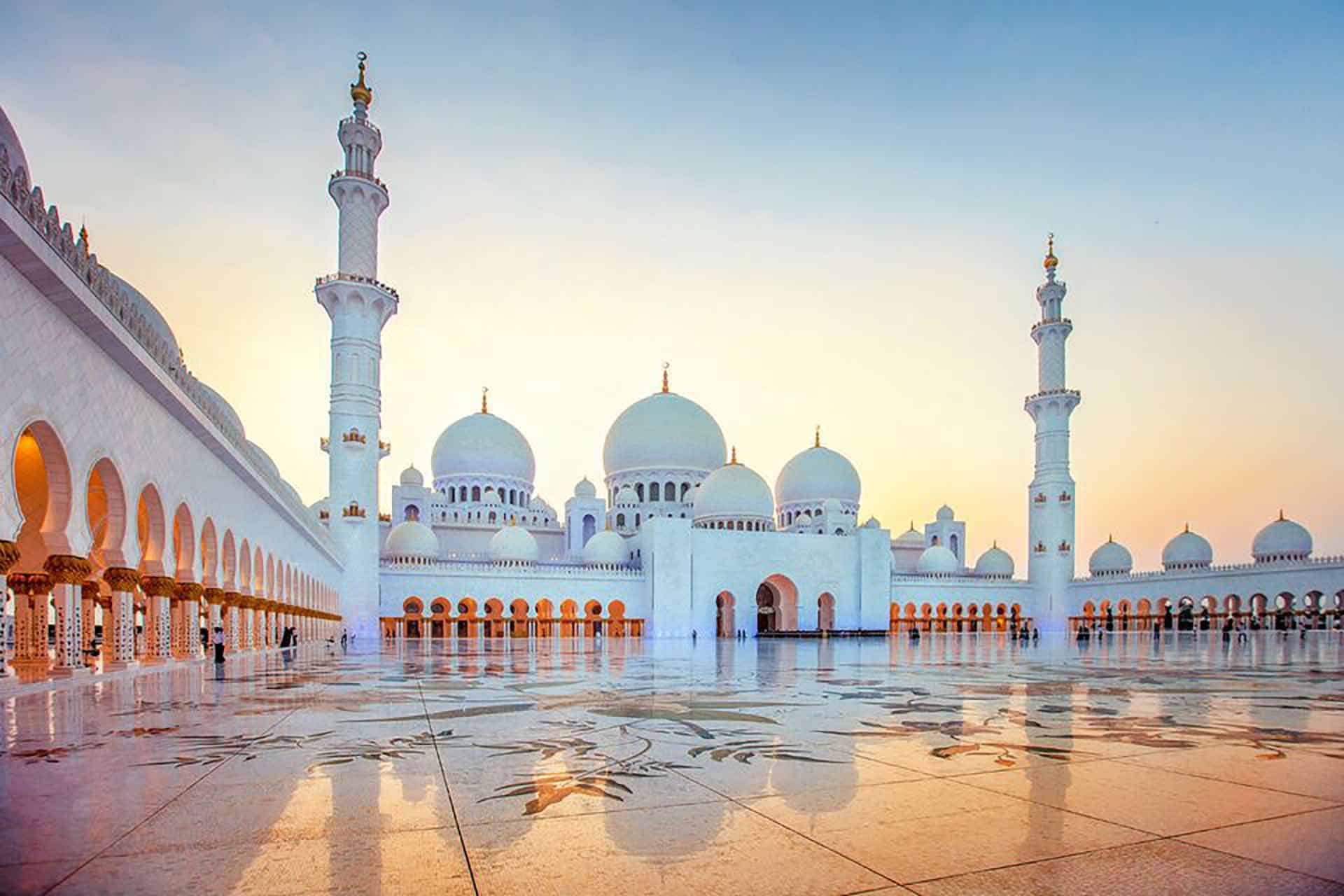 Khor Al Maqta is the waterway that separates the city of Abu Dhabi from the mainland, and which is guarded by  Al Maqta Fort , a bicentennial fort located on a rocky islet. It is also sometimes called the "Grand Canal". It is an essentially residential area, well located and well connected. It is connected to the mainland by 3 bridges.
On either side of this inlet are many restaurants that showcase cuisines from around the world. Here, the atmosphere is quite lively, this district is home to the  Souk Qaryat Al Beriet shopping center, and you can also find some tourist sites such as the Venetian village located in the Ritz Carlton park. The  Abu Dhabi National Exhibition Center is also nearby.
In Khor Al Maqta, you will be able to find large high-end resorts, but also more affordable hotels.
Where to sleep in Khor Al Maqta?
Traders Hotel, Abu Dhabi  is a beautiful 4-star hotel on the beach, with facilities such as a swimming pool, a wellness center, a gym, and a restaurant. The place is very elegant, the staff is available and attentive, and double rooms are available from  around €80 per night.
The Ritz-Carlton Abu Dhabi, Grand Canal is a 5-star hotel complex located in the heart of a large landscaped garden, including a private beach overlooking the Grand Canal. Here, the services are very top-of-the-range, the view is superb and the rooms are spacious and decorated with the greatest care. They are accessible from around €175 per night.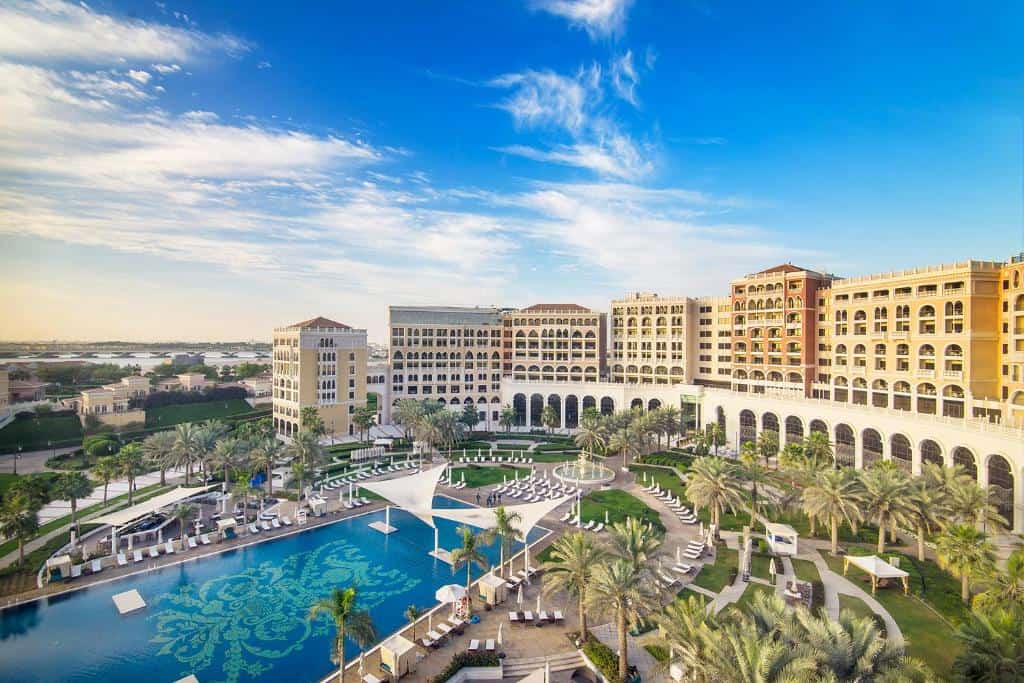 Saadiyat Island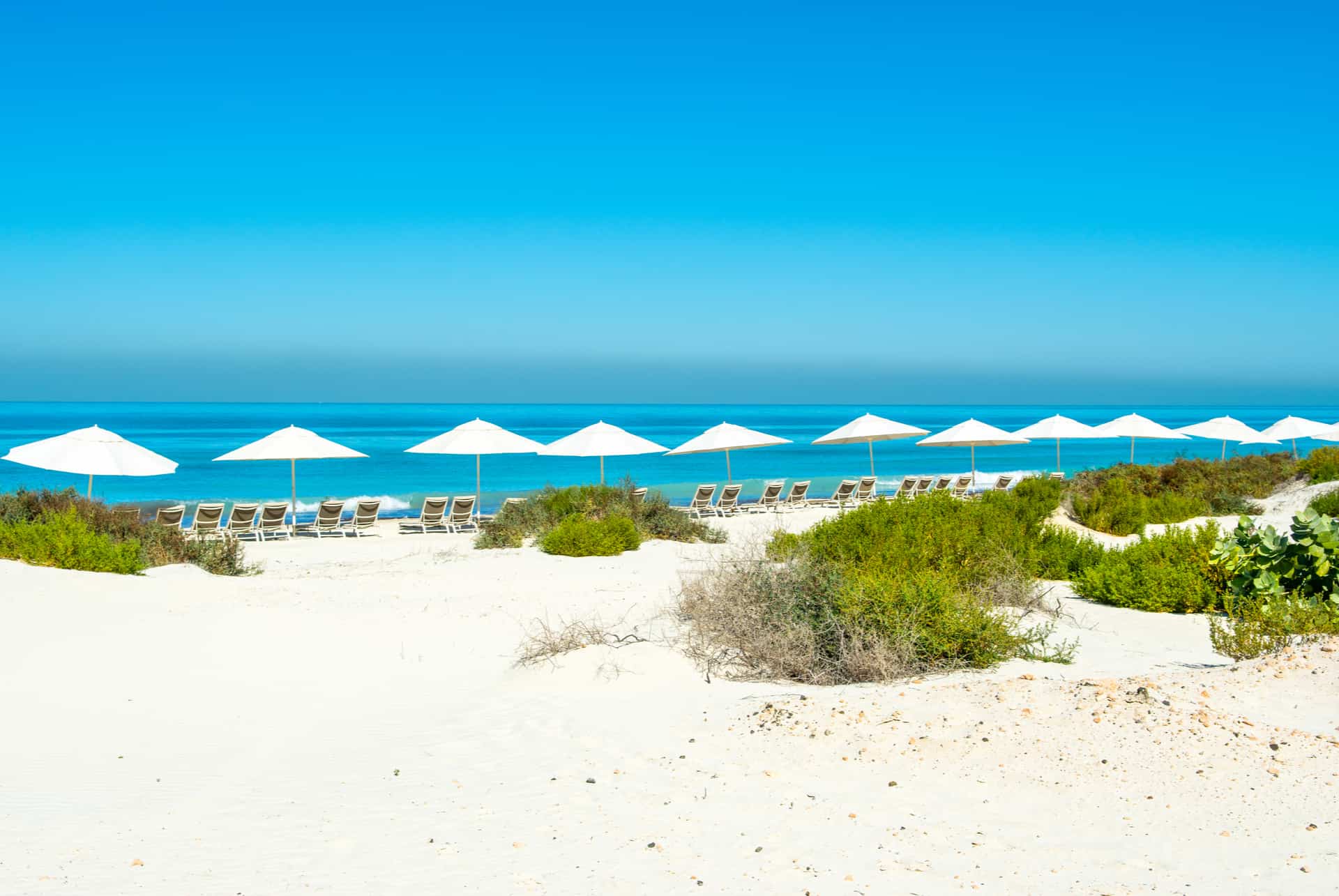 Saadiyat Island is a veritable temple of luxury in Abu Dhabi. Here, luxurious villas and large properties by the sea follow one another, and you can find large luxurious hotel complexes, to spend a particularly pleasant stay, making the most of the beach and the sun. An idyllic island to sleep in Abu Dhabi!
It is also here that the cultural space of Abu Dhabi is located, which brings together the largest museums in the city, including the  Louvre Abu Dhabi and the  Guggenheim Museum Abu Dhabi .
And not to spoil anything, the island of Saadiyat is very well located, since by car it will only take you 5 to 10 minutes to reach the most central points, and the airport is only about twenty minutes away.
Saadiyat Island is an area where accommodation is often very expensive. You will basically find large 5-star hotels with private beaches.
Where to sleep on Saadiyat Island?
Jumeirah at Saadiyat Island Resort is a large 5-star resort with a gym, three swimming pools and three restaurants, which is located on the island of Saadiyat by the sea. Its very beautiful rooms are spacious, bright and particularly comfortable. They are accessible from around €300 per night.
Park Hyatt Abu Dhabi Hotel and Villas is another luxury resort, which sits along a nearly 9 km long private beach. The service is impeccable, the complex has two swimming pools, a landscaped garden, a spa and three restaurants, including one with a superb panoramic view of the beach and the garden. You can find elegant and very spacious rooms there for around 270 € per night.
Yas Island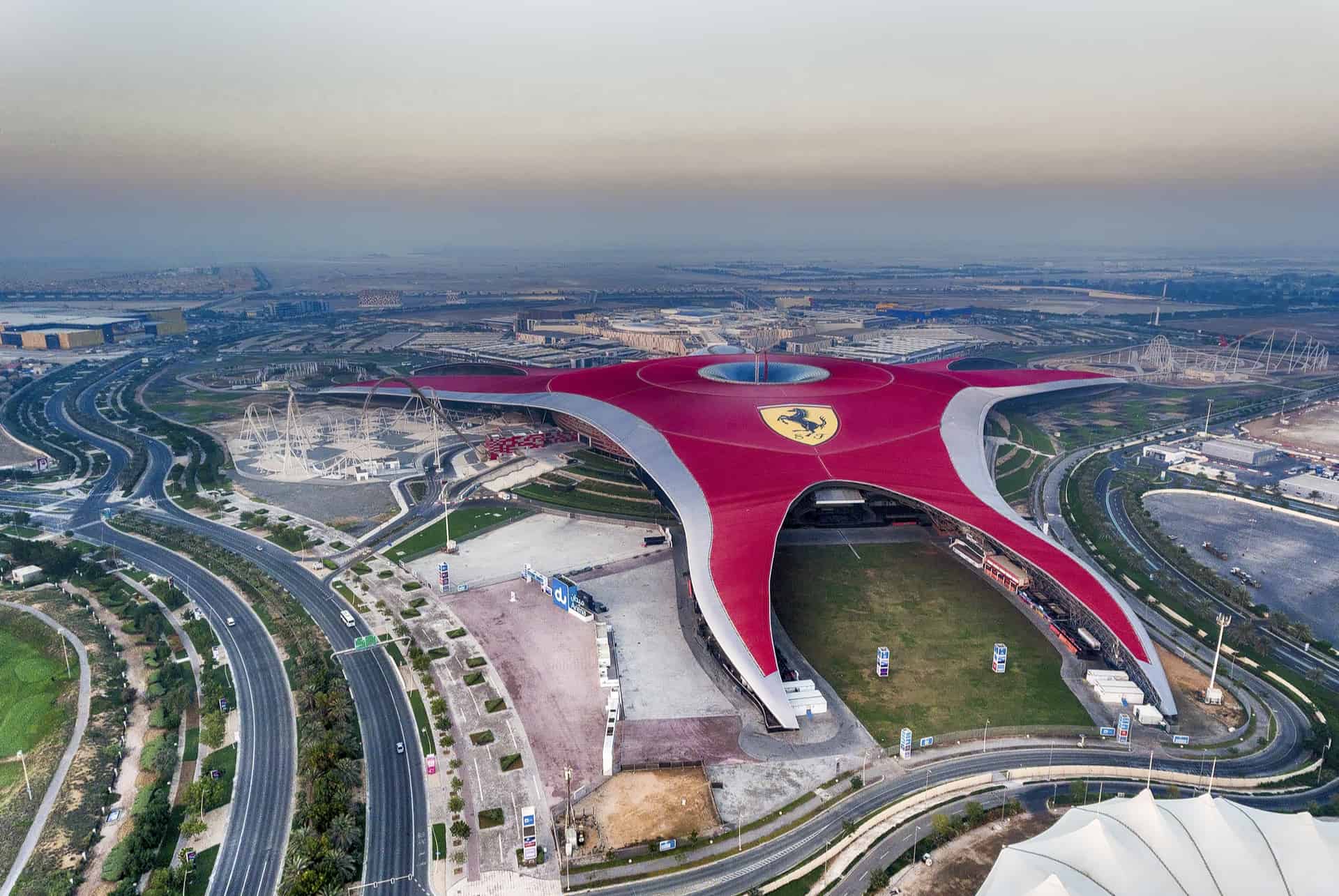 Yas Island is an artificial island almost entirely devoted to entertainment. You will necessarily spend a lot of time there during your stay in Abu Dhabi, so necessarily, staying there can save you a lot of time. In addition, you will also be close to Abu Dhabi International Airport .
On this unique island, you can find several world-renowned amusement parks:
Warner Bros Abu Dhabi , the largest indoor theme park in the world, dedicated to the characters and licenses of the famous film studio
Ferrari World Abu Dhabi , an amusement park dedicated to the famous car brand
Yas Waterworld , one of the largest water parks in the world
It is also here that the Yas Marina Formula 1 circuit is located, where the Etihad Airways Abu Dhabi Grand Prix is ​​held.
As you will have understood, Yas Island is really one of the best places where you can put your suitcases in Abu Dhabi, especially during a family trip.
Where to sleep in Abu Dhabi on Yas Island?
Radisson Blu Hotel, Abu Dhabi Yas Island is a 4-star property that is just a 7-minute drive from the airport and close to the circuit and all of Yas Island's attractions. You can find rooms for two there from around €120 per night.
The WB Abu Dhabi, Curio Collection By Hilton is a 5-star hotel with two beautiful swimming pools, a hammam, a garden, a bar and a restaurant, which is located very close to the Yas shopping center, Ferrari World and Yas Waterworld. The quality of the services is excellent, and rooms for two are available from around €220 per night.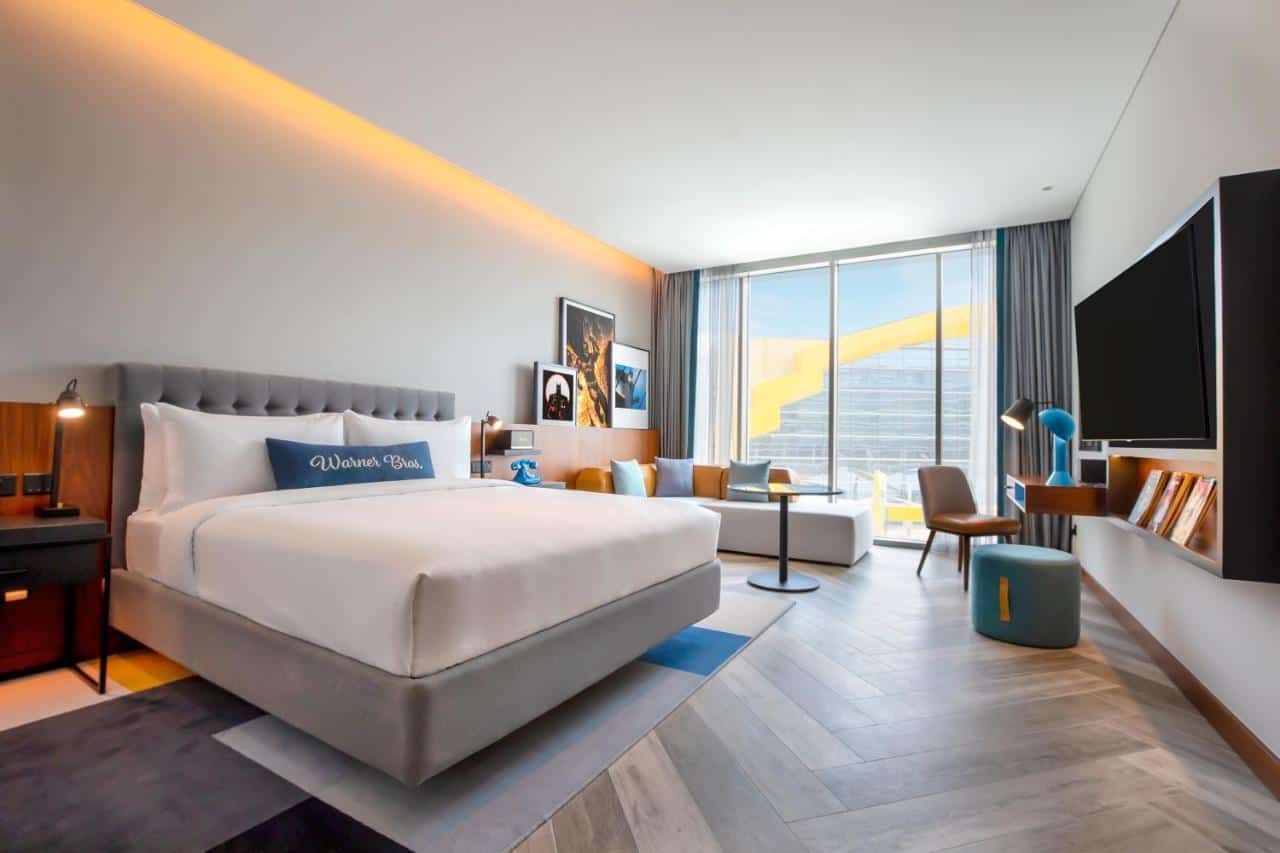 We are coming to the end of this article on the best places to stay in Abu Dhabi. I hope that the information has allowed you to know a little more about the appropriate neighborhood for your stay!